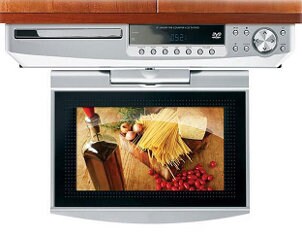 Things You Need:
Under-cabinet TV
Power drill
Coaxial cable
Having a little entertainment in the kitchen can be enjoyable, especially when you have a large meal to prepare or a mountain of pots and pans in the sink. An under-cabinet TV may be just the thing to let you enjoy your favorite TV shows or watch a DVD while you work around the kitchen. Installing these compact televisions only takes a few minutes. Follow the steps below to install your under-cabinet TV and bring convenient video entertainment to your kitchen.
Adding a TV to Your Cabinets:

Select a location for your TV. You'll need an electrical outlet in order to plug in your new television. Try to locate the unit away from electronics that can interfere with radio signals, such as the refrigerator or fluorescent bulbs. Televisions should also be located away from cooking appliances, like your stovetop, toaster and other heat sources that may damage the LCD TV. If your under-cabinet TV has a built-in AM/FM radio, you may want to test the reception in different spots and orientations before you commit to one place.

Drill holes for the mounting bracket. Once you've chosen a cabinet to mount the LCD TV, empty the bottom shelf so you can drill some mounting holes. Many under-cabinet TVs come with a template that you can use to mark the hole locations on the shelf. You can then use the power drill to make the holes.

Test the TV visibility. Some TVs have a very low profile, and the bottom edge of your cabinet trim may obstruct your view of your LCD TV screen. If you need to lower the TV, you can use longer screws and spacers that come with your TV or make a simple wooden frame to mount the bracket to, giving your screen a lower position.

Secure the mounting bracket and attach the TV. Some TVs may have a separate mounting bracket which the LCD TV slides or clips into. Refer to the instructions for specific mounting instructions and secure the TV firmly to the underside of the cabinet.

Attach power and video cables. Plug your TV into an electrical outlet, securing the power cord out of sight. If you're connecting to a cable or satellite system, you'll need to run coaxial cable from the receiver to the port on the back of the LCD TV as well.

Buy Televisions
Back to Guides Directory