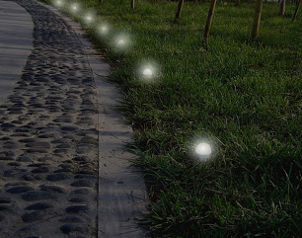 The ultimate finishing touch for any yard is garden lighting. Whether you want solar garden lights that save energy as they illuminate a pathway or bright LED garden lights to enhance your patio, you're sure to find outdoor lighting that adds a bit of magic to your home. Once you've picked the right outdoor garden lighting, you'll just need a little time and a few tips to begin setting them up in your yard. The steps below will help you learn how to install garden lighting.
Setting Up Garden Lighting:

Plan it out. The first thing you'll want to do is plan your garden layout and write down the number of outdoor garden lights you will need. Next, determine the type of light bulb that you will use in each light. You may want to use a few different types of garden lights in your yard, depending on the mood you want. For example, LED garden lights will provide bright, white illumination that's perfect for a pool area at night, while solar garden lights provide a dim, subdued light that can enhance garden pathways. No matter which garden lights you like best, you'll want to write down all types so you can buy everything you need for installation.

Determine what type of transformer you need. Once you know the number of garden lights and types of bulbs you'll be using, you can determine how many watts you'll need. The total amount of watts is needed to determine the size of the transformer that you'll have to install. Outdoor garden lighting operates on 12 volts, so the transformer will convert the wattage of your lights from one size to another. For example, 240-volt garden spot lights will be converted to 12 volts. Plan to size the transformer so that it is at least 60 percent loaded; plugging a strand of low-voltage outdoor garden lights into a big transformer will overpower your lights and shorten their lifespan.

Wire the setup. The wire to your outdoor lighting should be a low-voltage cable. Place it beneath mulch and over structures in your garden. The transformer should be placed in an area that's convenient for running wires. When running the cables, try to keep them as short as possible. Garden lights can get hot over time, so place them where they won't be touched by people or pets. If you're mounting garden spot lights, put them in a recessed fixture and wear insulated gloves to change the bulbs. Plan your work before you get started and if you aren't comfortable doing it alone, hire a professional to help.

Buy Garden Lighting
Back to Guides Directory