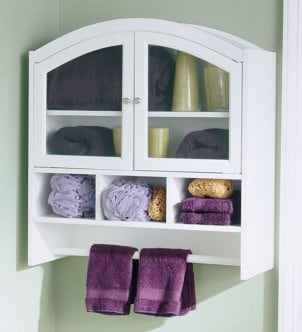 Things You Need:
Stud finder
Pencil
Screwdriver
Drill
Hole saw
Shims
Carpenter's level
Clamps
Wood screws
2 1/2-inch wallboard screws
One of the handiest pieces of furniture in your bathroom is your bathroom cabinet. These cabinets are usually the largest, most eye-catching fixture in the bathroom and are extremely practical for storage. Their appearance sets the tone of the room. If the bathroom cabinets are dilapidated, the whole room feels grungy. Revitalizing the look and feel of tired, shabby bathroom furniture can often be as simple as installing new cabinets. Bathroom cabinets are available for every budget and style, and the project takes only an afternoon to complete. Look below to learn how to install bathroom cabinets.
Installing Bathroom Cabinets:

Remove your old cabinets. Removing your old bathroom cabinets is the first step in revitalizing your bathroom. Once you've completely removed the old cabinets, it's time to clean the walls. Wipe away dust and make sure that the walls are even and level. Mark any gouges and uneven areas and then locate and mark the wall studs. Make sure any marks you make are dark enough to see and that they'll be out of sight once the new cabinets are installed.

Remove the doors and drawers. Remove the doors and drawers from preassembled cabinets. This eliminates the chance for a drawer to slam on fingers or a cupboard door to swing open and injure the installer. Use a hole saw to drill a hole for the supply line and drain holes. Some lower cabinets do not have a back plate, allowing you to position the cabinet without drilling.

Position the first cabinet over the pipes. Make sure the cabinet is level and flush with the bathroom wall. Use shims behind the cabinet to compensate for irregularities in the wall. Making sure the cabinet is level will give you a flat surface for the items you plan to store in the cabinets. If the cabinets are crooked, the items you store in them will slide around and jumble together.

Attach the other cabinets. Align the adjoining cabinets and clamp them to the first. Make sure the cabinet is level with the other and then screw the cabinets together. Repeat until all the cabinets in the unit are connected.

Secure the cabinets. Insert at least three screws into studs through each cabinet back to secure the cabinets to the bathroom walls. Attach the doors and insert the drawers. Install the countertop and sink after the cabinets are in place.

Buy Bathroom Cabinets
Back to Guides Directory