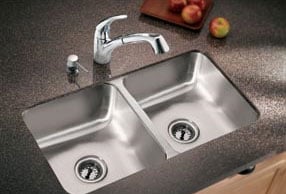 Things You Need:
Drill
Drill bits
Saber saw and blades
Tape measure
Masking tape
Pencil
Sand paper, emery cloth, polish
Soft cloth
Keep up with the latest kitchen design trends using undermount kitchen sinks. You can learn how to install an undermount kitchen sink in just a few steps. Cutting and drilling solid countertop materials takes sharp tools and a steady hand, but with a little patience, you'll find it a relatively easy home improvement project.
Installing an Undermount Sink:

Locate the position of the sink on countertop materials. If the countertop has not been installed, you can flip it over and make marks, drill and cut from below. Avoid errors by marking the countertop right-side-up and then flipping it over. Protect the top and bottom of the countertop with masking tape, as some solid materials will chip near cuts and could break along natural lines while being handled. Get plenty of extra help when flipping the countertop. You may need a specialized lifting device to hold the bulk of the weight. Check with local rental companies for the lift equipment.

Cut the hole for your sink. Use the template provided by the sink manufacturer for the sink hole. Mark the area to be cut. Check all measurements and placements before making any cuts. Take a break and relax before making any cuts; the job will require all your strength and focus. Gather the sharp bits and blades. Drill a starter hole near but not on the marked line. The hole needs to be large enough to fit the blade with some room for movement. Let the bit or the blade do the cutting. Steady, medium pressure on the tool and sharp blades should be sufficient for a clean and accurate cut.

Smooth the edges using a fine file or sandpaper. These edges are critical to the final look of the countertop and sink, so take extra care with them. Use emery paper or extra fine grit to create a final finish and then polish. Some solid countertop materials may need a clear waterproof sealant.

Drill mounting holes for the sink. Position the undermount kitchen sink and mark the position of holes to be drilled from below. Use the correct size drill bit as recommended by the manufacturer because it's critical that the size match the fasters supplied.

Apply the sealant. Apply latex, silicone caulk or plumber's putty from below to provide a waterproof and anti-vibration seal for your new sink.

Mount your sink. Mount the undermount kitchen sink from below and tighten the fasteners by hand. Clean up excess sealants. You're now ready to go.

Buy Undermount Kitchen Sinks
Back to Guides Directory