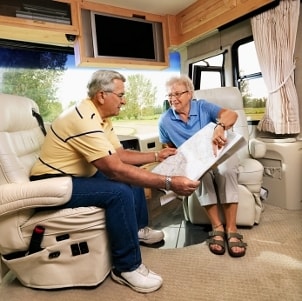 It can be great to have a little entertainment when you're out on the road. Mobile video systems are a sure cure for road trip boredom. LCD TVs are compact and energy-efficient, making them an easy way to watch TV or movies during your next trip. Here are some points you'll want to cover in order to install an LCD TV in your car.
Installing Your Mobile LCD TV:

Vehicle mobile-video options: Which type of LCD TV you choose will largely depend on the type of vehicle you'll be installing it in and how much room is available.

RVs and campers: Many campers and RVs have more than enough room for flat-panel televisions with screens as large as 40 inches. You probably won't need other than normal connectors and power cords for your LCD TV, since RVs are usually equipped with regular electrical outlets.

Cars, trucks and SUVs: Car-ready mobile-video options provide an easy way to fit LCD TV screens into seatbacks and ceilings. You may want to stick with smaller screen sizes, depending on how much room is available.

Mounting: Look for near eye-level locations for your LCD television within your vehicle. You may be able to find LCD TVs embedded in headrests, sun visors or seatbacks. More portable options have the LCD TV fixed to a harness or carrying case that hangs on the back of the seat so passengers behind can watch the screen.

Getting power: If your vehicle doesn't have a regular electrical outlet, you'll want to use an adapter for your car's lighter outlet or wire your flat-panel TV directly into the electrical system. Your vehicle should have open connections available in the fuse box.

Connecting video devices: To get video to your LCD TV, you may want to install a TV tuner, antenna or car satellite dish. A car DVD player will give you entertainment on those long stretches of highway with no reception.

Audio options: LCD televisions for vehicles don't always include built-in speakers. You can add a set of compact speakers to the setup or connect your LCD TV directly to your car stereo system. It may also be a good idea to get a few pairs of headphones. That way, passengers who don't want to listen to the LCD TV can have a quiet atmosphere for other activities.

Buy LCD TVs
Back to Guides Directory