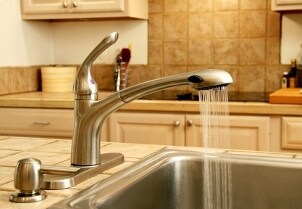 Things You Need:
In-counter soap dispenser
Power drill
Masonry drill bit
Bathroom and kitchen decor really starts to come together when a single theme unites the room style. Matching bath hardware is especially good at accenting a room. If your towel bars, faucets and soap dispensers all match, everything will look more polished and permanent. To help this theme, you can install a built-in countertop soap dispenser next to your bath or kitchen sink. Here are step-by-step instructions on how to do it.
Installing a Soap Dispenser:

Determine the hole size you'll need. If your sink has an available pop-out hole cover, you can use that to install your soap pump. If there is no extra hole or you have an undermount sink, you may need to drill a hole for the soap dispenser. Measure the base of your soap dispenser pump if it doesn't list the hole size required for installation. Then select the proper drill bit size to make your hole.

Mark and drill the hole. Depending on the countertop material, you may want to drill a pilot hole to prevent the drill bit from skipping and scratching the countertop. Measure and mark the center-point of the spot where you want the soap dispenser to be. Usually, you'll want at least an inch between the edge of the hole and the edge of the sink. Keep in mind the location of any pipes or wires beneath the spot where you will be drilling. When you're drilling the soap dispenser hole, apply pressure straight down into the countertop.

Insert the soap dispenser pump. Your new soap dispenser comes in two or three parts: the pump, the ring and the reservoir. Push the reservoir through the hole from under the countertop. Then screw the ring or soap dispenser pump into the reservoir.

Fill the soap dispenser. Pull the soap pump out of the reservoir and fill the reservoir with soap. This may be simpler with a funnel. When the reservoir is full, replace the soap dispenser pump and test it. It may take a few pumps before the soap works its way through the soap dispenser.
Soap Dispenser Tip:

If the soap dispenser is installed close enough to the sink, any excess soap will drip into the sink bowl rather than onto the countertop.

Buy Soap Dispensers
Back to Guides Directory