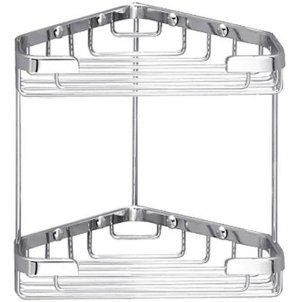 A shower caddy is a bath accessory designed to hold things you might need while taking a shower or a bath, such as soap, body wash, shampoo and conditioner. The most popular shower caddy materials are plastic and steel. The installation method depends on the design. Some shower caddies require suction cups, some use tension rods and others are free-standing. Below you'll find some tips on how to install a shower caddy.
Installing a Shower Caddy:

Over the shower head: Hang the shower caddy over the shower head. Some caddies are wide enough to slide over the shower head easily. If your shower caddy has a narrow opening, unscrew the shower head, slide on the shower caddy and then replace the shower head.

Over the shower door: Hang the caddy over the shower door or track. Such caddies may have suction cups for stability. Bend the tabs over the curtain rod or shower door for a snug fit.

Use suction cups: Use suction cups to hold the caddy securely to the wall. Dip a cloth in a small amount of alcohol and wipe the wall. Wipe the area with a dry cloth. Press the cups onto the wall. Some suction cups have a locking mechanism for a more secure hold.

Adjust the tension rod: Some caddies built to fit in a corner have tension rods that keep them in place. Assemble the rod and attach the shelves. Place the shower caddy in the corner and extend the rod to the ceiling. Twist the rod until there is enough tension to hold the caddy secure.

Think about a free-standing caddy: Place a free-standing caddy in the corner of the shower area. This type of shower caddy has feet that will keep it balanced at the corner of the tub. These bath accessories don't need additional support to remain in place.

Install a bath rack: Bath racks are wide enough to fit across a bathtub, with the ends resting over the sides of the tub.

Buy Bath Accessories
Back to Guides Directory