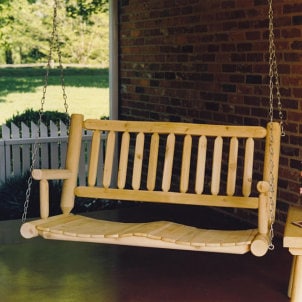 Very few items of porch and patio furniture offer the peace and relaxation of hammocks and swings, and as far as outdoor furniture is concerned, it's hard to compete with a porch swing's decorative charm. Because porch swings need to support weight without compromising the stability of the porch, it's important to take the time to complete the installation safely. A little planning before and during the installation goes a long way in ensuring your new porch swing remains enjoyable for years to come.
Installing a Porch Swing:

Select an area with plenty of room. Even if you don't plan on your porch swing doing much swinging, you'll need at least 3 feet of space between the swing and nearby structures.

Check your support beams. If you are unsure of how much weight the beams can tolerate, ask a carpenter to take a look before you drill into the beams. If the beams cannot support the weight of the porch swing and its occupants, free-standing A-frames can be purchased instead.

Take correct measurements. Measure the length of the swing, and then add 2 inches onto that length. This will be your measurement when you drill the holes for the chains. Adding the extra couple of inches helps disperse the weight of the swing.

Mark the beam before drilling. Use a pencil to mark the spots on the support beam where you will be drilling the holes.

Drill holes into the support beam. After you have drilled the holes, screw in the eye bolts. Drilling the holes first prevents the wood from splitting.

Hang the swing. Thread the swing's chains through the eye bolts. You may need to experiment with the length of the chains to find the ideal position for the swing. The excess chain can be cut, strapped or left alone.
Tip:

You can also hang porch swings from sturdy tree branches when a porch is not available. Wrap a rubber hose between the swing's chain and the tree branch, and secure the chain by looping it around the branch and fastening it with a large rust-resistant bolt.

Buy Hammocks and Swings
Back to Guides Directory