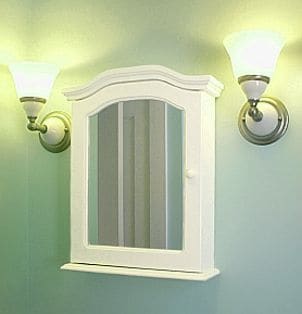 Things You Need:
Electric drill
Screwdriver
Screws
Show your creative flair and add a practical touch to your bathroom by installing a bathroom mirror with cabinets (also called a medicine cabinet). Not only will the extra storage provide space for smaller toiletries and medicine, but it can also bring new life to an otherwise drab and overlooked area. Complement your mirror with coordinating shelves for towels and a vanity sink with room underneath to put larger items, such as cleaning supplies and toilet paper. Choose a bathroom cabinet that will be big enough for placement of items for you as well as for overnight guests.
Installing a Medicine Cabinet:

Pick a location. Determine the best wall location for the medicine cabinet -- one that will add the most visual appeal to your bathroom and make it look larger. Clean and remove all dirt, debris or excess paint, and ensure that the area is flat and free of lumps or indentations.

Outline your medicine cabinet. Place and hold the bathroom cabinet against the wall in the desired location and outline it with a pencil, making sure that it is level. You may need some assistance, particularly with a larger unit.

Find the studs. Locate studs using a stud finder within the outlined area. Mark the stud locations on the wall and on the inside of the cabinet.

Drill the cabinet and wall. Drill holes through the back of the unit at the marked points into the wall studs. If the cabinet has a preinstalled support rail in the back, drill holes through it and into the studs for maximum support.

Attach your medicine cabinet to the wall. Use the factory-enclosed screws and firmly attach the cabinet to the wall studs. If no screws were provided, use a size of screw that will fully secure the weight of the unit you have, keeping in mind that the unit will get heavier as more items are piled into it. When determining the length of the screw, you will want to know how much distance there is from where you start inserting the screw and where the stud begins; this includes part of the medicine cabinet and about half an inch for the drywall before your screw reaches anything strong enough to hold it in place.
Tips:

Medicine cabinets are typically installed directly over the bathroom sink, but they can be placed elsewhere, depending on the dimensions, layout and design of the bathroom.

To create even more storage space, consider installing two cabinets: one over the sink and another one on an adjacent wall (if you have enough room).

A surface-mounted cabinet is much easier to install than a recessed cabinet, since you don't have to cut out an opening in the wall and risk damaging electrical wires, plumbing pipes or cable.

Buy Bathroom Cabinets
Back to Guides Directory