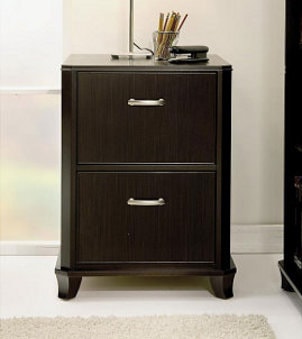 File cabinets can fill up quickly if they aren't maintained. They may get cluttered with documents waiting to be filed or resource materials that don't have a specific home. Here's how to get organized and increase your file cabinet storage space.
File Cabinet Organization:

Clean out the file cabinet. Working one file at a time, remove everything and begin sorting. Shred or recycle any documents that you no longer need. Keep all tax documents, receipts for large purchases, warranties that are still active, and service records for cars you still own. Some files can be purged once a year, like annual statements, paycheck stubs, and bills you have paid (unless you need them for your taxes). You can also shred or recycle paper documents that are backed up by another source. For example, if you are keeping the user's manual for an appliance in your file cabinet, see if it is available on the brand's website, so you don't need to have a hard copy.

Move your most important documents to a safe deposit box. Documents like marriage certificates, birth certificates, wills, and titles are valuable enough that you may want to keep them under lock and key. As you clean out your file cabinet, set these aside so you can take them to the bank for safekeeping.

Create a temporary storage area for documents that need attention. Once documents are in your file cabinet, they will be out of sight and you may forget about them. If you need to organize bills that have not been paid or other papers that will soon need your attention, try adding baskets to the top of your file cabinet.

Use flat hanging files to maximize space. Use the entire depth of the file cabinet drawer by placing vertical hanging files on the rail systems of drawers. These hanging files will allow you to gain access to your files much more quickly than if you stacked your files horizontally in your filing cabinet. If you have other items in your file cabinet that don't fit into the folders, consider finding another shelf or storage space for them.

Find an organization system that you understand. You may want to label each file folder by project, date, company, or another designation suits your needs. Place the files in the cabinet alphabetically or numerically, depending on the system you decide on. Avoid creating a "miscellaneous" file; make sure every document has a designated file in the cabinet.

Buy File Cabinets and Accessories
Back to Guides Directory