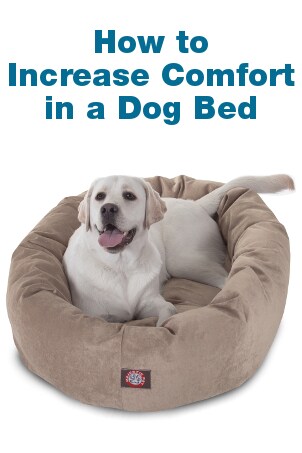 SHOP PET BEDS NOW >>
Your dog may be easy to please, but that doesn't mean she deserves an uncomfortable dog bed. Every pooch should have a cozy dog bed to retreat to when tired. Unfortunately, too many dogs live their lives without a comfortable place to rest. Keep your favorite pets feeling great by giving them a soft, welcoming place to sleep and relax. If you're curious about how you can take the comfort of your dog's pet bed to the next level, try these simple tricks. They should help you learn how to increase comfort in a dog bed to give your pooch a good night's rest.
Make a Dog Bed Comfortable:

Keep it clean: The first and most important step in keeping a dog bed comfortable is maintaining its cleanliness. Unclean dog beds are both uncomfortable and unhealthy for your pet, so when you set out to make your dog's pet bed more appealing, make sure the bed components are easy to wash. Frequently vacuum and dust pet hair off the bed frame and cushions. Wash the cushion cover every month or so as well.

Create a nest: Pet beds are often very padded, but dogs like to nest more than the beds let them. To help add comfort and allow them the burrow in a nest, create a soft, loose base on top of the dog bed. Bunch blankets or old sheets to create layers for your dog to curl up in.

Add pillows: Adding pillows to your own bed increases the comfort level; why wouldn't it work for your dog's bed? Try adding a large, soft pillow or several small cushions to the dog bed. This will make the bed warmer, too. Don't overdo it, however; too many pillows can leave little room for your dog to sleep in his pet bed.

Keep it convenient: Turn your dog bed into a dog home by making it your pet's home base. By surrounding it with her favorite toys and food and water dishes, you will make the dog bed a familiar place that where your pet always feels welcome. Place the bed on the floor, especially if you have an older dog who can't jump very well anymore.

Shop Dog Beds
Shop Pet Houses
Shop All Pet Supplies
See All Guides
Read More Pet Guides
Learn More about Pet Gear & Supplies