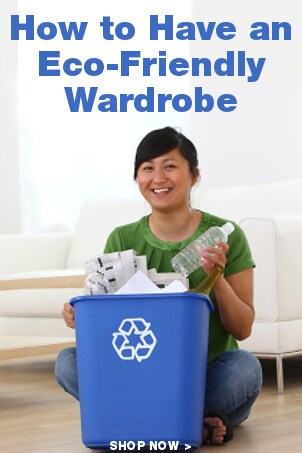 Choosing to be eco-friendly can be very rewarding, but it takes a bit of work. If you want to take your green lifestyle to your wardrobe, start by reading our green clothing buying guide. Then, follow these tips on choosing and caring for clothing, shoes, and accessories in a way that will help you be a little kinder to the planet.
Green Your Clothing:

Search smart: When you're online shopping, use search terms like "organic clothing" and "recycled clothing." You can also search for clothing made from specific fibers, like hemp clothing or bamboo clothing.

Consider the brand: Look up information about a brand before you buy their clothing and accessories. You may be surprised to learn that they are doing a lot to help the environment. Many clothing companies, including some couture fashion houses, are adopting and developing new methods of manufacturing that are kinder to the earth. When you buy green clothes that you like, write a letter to the clothing company to thank them for helping the planet.

Pace yourself: You may be ready to overhaul your whole wardrobe, but going green doesn't mean replacing all of your clothes. Remember the slogan "reduce, reuse, recycle" and reuse the clothes you currently have in your closet until you can't use them anymore. Treat your clothes well, so they'll last. As you need new clothes, shop for more environmentally conscious clothing.

Start small: More green clothing -- in more styles -- is available all of the time. However, it still can be difficult to find all of the styles you want when you're looking only for things that are organic or made of hemp. Don't beat yourself up if you can't have a full wardrobe of eco-friendly clothing. Remember that even a few small lifestyle changes can really make a difference. Every little bit helps, so even if you choose an eco-friendly item every few times you shop, you're still helping the planet.

Don't forget the details: Your accessories can help you go green, too. Here are a few ways.

Green Accessories:

Look for accessories, like hats and scarves, made out of recycled or earth-friendly fibers. These are often handcrafted accessories, so you'll be helping support craftspeople while living greener.

Remember that "natural" materials aren't always good for the planet. A 2006 United Nations Farm and Agriculture (FAO) study found that the livestock industry produces more harmful greenhouse gases than automobiles. To avoid contributing to those emissions, choose shoes and belts made out of non-leather materials.

Buy tote bags to use in place of plastic shopping bags. Keep a few tote bags stashed in your car for last minute errands.

Choose designer accessories that will last many years and won't end up in a landfill.

Spread the word: Now that you've learned more about having an eco-friendly wardrobe, share what you know. If you're inspired to take action, get in touch with a campaign like Clothes for a Change. Started by the non-profit group Organic Consumers Association, this campaign works to encourage clothing companies to adopt greener and more humanitarian manufacturing practices. Check out their website for information about what you can do locally and to whom you can write letters and show your support of green clothing.

Shop Eco-Friendly Clothing & Shoes
Shop Worldstock Clothing & Shoes
Shop All Clothing & Shoes
See All Guides
Read More Go Green Guides
Learn More about Green Clothing
Learn How Overstock™ is Going Green