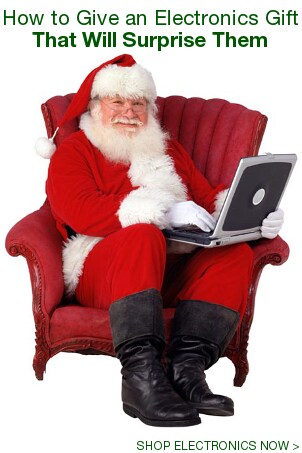 When you're trying to surprise someone with a gift, you need to know a few things about their personality. Matching the best electronics to the right people is simple if you consider their interests. You'll be able to give the perfect gift every time if you consider these tips.
Give Great Electronics Gifts:

Consider what kind of entertainment they talk about the most: What are the hot topics on your gift recipient's mind? If they talk about music often, they'll appreciate having their entire music library fit in their pocket. An MP3 player makes a great electronics gift. You can even load music, movies or audio books onto the player and pair it with MP3 player accessories before you give it to them. Do they love movies? Replace their old TV with a new smart TV, which has streaming capabilities built right in.

Think about what they used to have fun doing: Has someone you know been feeling overwhelmed by responsibilities? Video games used to be a pastime for kids only, but recently, video game consoles have started to target more casual players and groups of adults. If you know someone who needs the freedom of feeling like a kid again, surprise them with an Xbox Kinect or a Nintendo Wii U console, and wrap it up with a few video games that will let them get back in touch with their playful side.

Help them remember fond memories: If you're shopping for a Christmas gift, your summer vacation may seem like a distant memory. Bring back the good times with a digital photo frame. This is a great electronics gift, even for people who aren't tech-savvy. You can give it loaded with pictures of family and friends, and all the recipient will need to do is plug it in and enjoy a slide show of photos they'd forgotten about or hadn't seen yet.

Get them the latest gadget before they realize they need it: When you use your old smart phone every day, you don't always realize that the screen is small, the storage is getting too full with apps, and the Wi-Fi signal just isn't what it used to be. If someone in your family has an outdated cell phone, get them a new model that outperforms their old one. They'll be amazed at what they were putting up with before. Just be sure to check that the smart phone you choose will work with their wireless carrier.

Pay attention to the needs they've mentioned in conversation: Surprising people with the right gift can't happen overnight. You have to start gathering the clues people give you months ahead of time. Many people don't even realize they're giving you gift ideas. Be sure to notice if your spouse has mentioned that their computer is running slowly; an upgrade to their system would make a great gift. Maybe your college student has mentioned that there are long lines to use the computer lab at school; a laptop computer with a large screen, a fast processor, and lots of storage will make next semester much better.

Shop All Electronics
Find the Perfect Gift in Our Gift Center
See All Guides
Read More Electronic Guides
Get More Electronic Gift Ideas