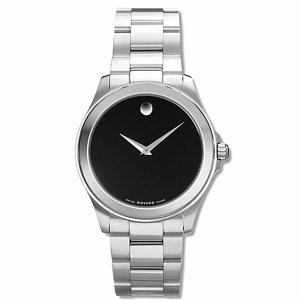 From doing laps before work to tackling a day of business meetings, men's watches are made for the men you know who lead active lives and have hectic schedules. Fortunately, designers have made sure that there is a men's watch that suits every occasion. Watches make great gifts because they can be picked out to suit each individual person. You'll be surprised how easy it is to learn how to gift the right men's watch. Take a look at these tips and prepare to delight the men in your life with the perfect gift.
Giving a Men's Watch:

For the sports buff: Consider a chronograph men's watch that includes a pedometer, stopwatch, tachymeter or split timer, depending on his workout. You'll also want to look for a watch with a high water-resistance rating when choosing a watch for a sports enthusiast. A watch with basic water resistance of 1 ATM (10 meters) can withstand a splash or two, but water-resistant divers' watches have a rating of 20 ATM (200 meters) or more and are functional underwater. Rubber straps are most commonly used on a men's sports watch.

For the outdoorsman: Watches for outdoorsmen will differ a little bit from average sports watches. They often have added functionality such as compasses, thermometers, climate indicators or altitude readers. Watches designed specifically for the outdoors will be made to withstand some of the harshest elements, including wind, rain or cold.

For casual wear: For a watch that he can take from the office to the gym, consider a casual watch. A quartz or automatic watch with an attractive stainless steel bracelet or a fine leather strap will satisfy most needs of a casual lifestyle. This type of watch is most commonly purchased because of the practicality of having one watch for all situations.

For luxury: For a touch of elegance that complements any night out on the town, you might consider giving him a luxury watch. Men's luxury watches are great for dressing up a formal outfit and adding something distinctive to the classic suit and tie. Made to attract compliments, luxury watches will let everyone know that opulence is his defining trait.

Buy Men's Watches
Back to Guides Directory