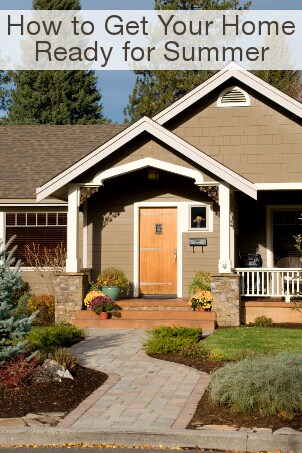 Just as you winterize your home, special measures should be taken to get your home ready for the hottest months of the year. If you start checking off the items on this list in late spring, you can be ready for the heat before it arrives.
Steps to a Summer-Ready Home:

Check your cooling system: How early in the year you'll need to crank up the cool will depend on your local climate. To avoid being stuck in stifling heat once the mercury tops the thermometer, however, you'll want to make sure your air conditioner or swamp cooler is ready to handle the pressure. First, check to make sure the outdoor condensing unit is unobstructed by plants or other objects. Next, change the filters in your system to ensure proper and clean air flow. With those steps complete, turn down your thermostat and monitor the temperature of the air coming from the vents. It may also be useful to check the weather-stripping and caulking around your doors to ensure you're not using more energy than necessary to cool your home.

Change your sheets: Shed the down comforter, flannel sheets, and wool blanket. Sweltering summer months call for lightweight and cool bedding. Cotton sheets are a good, and relatively inexpensive, choice; the natural fiber provides good air circulation and won't trap in heat. Linen sheets provide maximum cooling effect but also come with a heavier price tag. In their pure form, silk and satin sheets feel cool to the touch and provide a luxurious, lightweight layer. Natural fibers will provide the most breathability and comfort in any type of summer heat.

Wash your windows: Winter weather can leave a layer of grit, grime, salt, and dirt on your windows. Let in the sunshine by cleaning all of the windows in your house, both inside and out. You'll be amazed at the difference it makes. Start by filling a spray bottle with a formula of white vinegar and water. Spray the solution onto your windows and let it sit for 10 to 15 minutes. Use a plastic bristle brush to scrub the salt from your windows. Follow up with a traditional window cleaner and a squeegee to remove any remaining dirt. Start with broad horizontal strokes and finish with overlapping vertical strokes to prevent streaks.

Prepare your patio: Cleaning up your patio furniture should be a relatively easy task, assuming you stored your cushions indoors (always a good idea to avoid mold and damage during the wet winter months). Use the garden hose to rinse off your outdoor furniture and follow up with mild dish soap to remove any stubborn dirt. Chips and flaking paint on wood furniture should be sanded down and sealer reapplied to keep mold and mildew at bay. Before you fire up your grill, be sure to remove any grease or residue leftover from the previous summer's barbeques. Warm up the grill for a short time to make it easier to remove any residue, but be sure to disconnect the gas before cleaning. Use soapy water and a brass wire brush to remove any baked-on grease.
What Do You Want to Do Next?

Shop Air Conditioners
Shop Cotton Sheets
Shop All Home & Garden
See All Guides
Read More Home Improvement Guides
Get More DIY Tips