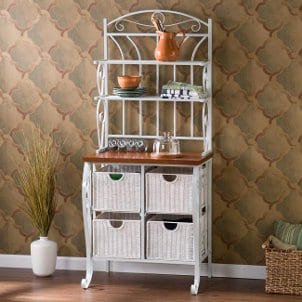 A successful kitchen uses storage shelves to stay neat, clean and well-organized. Kitchen shelves can keep a things running smoothly, but you must make sure that they stay organized. A missing ingredient can change the entire outcome of a recipe. With storage shelves, your kitchen will be at the top of its game. You'll know right where everything is, and your storage shelves will give your kitchen furniture an added fashion boost. However, organizing your kitchen storage shelves once doesn't automatically mean that they will stay that way. Keep reading for ideas on How to Get the Most out of Kitchen Storage Shelves.
Organizing Storage Shelves:

Clean them out on a regular basis. Kitchen storage, such as bakers racks and shelves, that is filled beyond capacity takes away any available space you might have had for new purchases. If you store too many items on your kitchen shelves, it can give your kitchen a chaotic look and make it difficult to find the item you need. Taking the time to check the contents of your kitchen storage shelves to see if you have duplicates of an item, or not enough of another, is an excellent way of keeping your kitchen organized. This method works for both food and cookware. Thinning out the pots and pans in your cookware collection can also free up a lot of room.

Assign kitchen items to specific shelves. Rifling through the canned goods mixed with your cookware will only slow you down when you're in a hurry. Keeping your kitchen furniture organized means that you'll know right where something should be when you're looking for it. If it's not there, you'll know that you're out and need to get more. Organized kitchen storage shelves will prevent you from making extra, and unnecessary, purchases. Keep heavier items, like cookware, on the bottom shelves and store your lighter items on the top.

Use storage baskets. Invest in additional storage baskets or dividers to help coordinate and separate your kitchen items. Don't feel that you need to fill everything to capacity. Over-full kitchen shelves will look messy even if everything is separated into groups.

Rotate shelf contents. Instead of storing your new purchases up front and using them first, put your new purchases behind already existing items. This will encourage you to use your already existing kitchen supplies first.

Buy Shelves
Back to Guides Directory