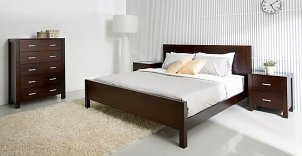 The bedroom is one of the most personal rooms in the house. For most people, it is a place to relax and escape. Many homeowners spend a lot of time choosing colors, linens and decor for the bedroom, but it is important to spend just as much, if not more, time selecting bedroom furniture. Choosing the right bedroom furniture is the key to creating a space that is not only relaxing but beautiful and functional as well. Take a look below to learn how to furnish a bedroom.
Furnishing a Bedroom:

Begin with the bed. The bed is the focal point of any bedroom and is arguably the most important piece of furniture you will buy for the room. Without a good bed and mattress, you will not get a good night's sleep. Spend the bulk of your budget on your bed, and your body will thank you. Make sure you like how it looks. You will sleep better if you like your bed.

Choose storage for your clothing. A crowded bedroom is not restful, so if the room is small, consider a closet storage system or a tall dresser. This will free up a lot of space in your room. Dressers, wardrobes or chests of drawers all provide excellent clothing storage for larger rooms.

Buy bedside tables. You will need something to hold your alarm clock, lamp, books, glasses and other items near your bed. Nightstands can match the bed or can be a bright pop of contrasting color or style. Any small table will do. The important thing is that you like the look of it.

Add personal items. If you like to watch TV in your bedroom, you will need to furnish the bedroom with some kind of TV stand. Even if the TV is on the wall, you will need something to hold a DVD player and DVDs. Other furnishings can include a vanity, lounge chairs, floor lamps, plants or bookshelves.

Make room for storage. Choose furnishings that do double duty as storage. For example, choose bedside tables with drawers or bins that can hold books or slippers.
Bedroom Furnishing Tip:

The more personal touches you add to a bedroom, the more it will feel like a safe haven. It will truly be a place where you can relax after a challenging day. With these step-by-step instructions, you have the perfect formula for furnishing your perfect bedroom.

Buy Bedroom Furniture
Back to Guides Directory