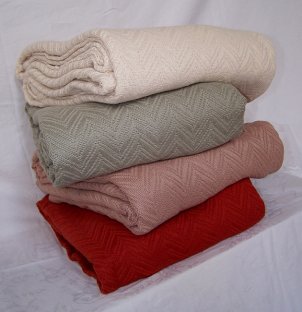 Twin blankets are convenient for foldingand are the ideal bedding size for small spaces. Folding a twin blanket is typically a one-person job. With larger queen and king bed covers, two people are needed to fold the blanket properly. Additionally, smaller covers take up less space than larger quilts or other bedding. It is important to fold a twin blanket as soon as the dryer completes its cycle. There will be fewer wrinkles, and the fresh scent will remain longer. Look below to learn how to fold a twin blanket.
Folding a Twin Blanket:

Stand upright. Hold one edge of the blanket at your chest and allow the remaining bedding material to fall down to the floor after making sure the floor is clean. Line up the corners you are holding and fold left to right.

Smooth out. Smooth the blanket in a downward motion to get rid of any wrinkles. Fold the blanket over so that the top corners meet the bottom corners. You should be holding the sides of the blanket evenly at the middle points, and the corners, sides and bottom edge should line up.

Fold again. Fold over one more time, lining up the corners and edges again. Depending on the size of your storage area, you may fold your twin blanket again, following the same procedure to ensure that it fits without crumpling. Straighten the corners and pat out any wrinkles that form.

Put away. Place the blanket on top of other folded twin blankets in the closet. Stack blankets of like size on top of each other with the folded edges outward for easy identification and removal. In addition, stacking folded blankets of the same size together creates a clean and organized look on the closet shelves. You may insert a used, scented dryer sheet between the blankets to keep them smelling fresh longer.

Buy Twin Blankets
Back to Guides Directory