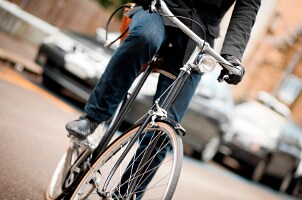 There's a reason why men's jeans are a men's clothing favorite: They're comfortable, casual and look great with just about everything in your wardrobe. When you're shopping for pants, however, you'll want to make sure the jeans you purchase are the right size and fit for your body. The following tips can help you size your men's jeans for the best fit.
Fitting Men's Jeans:

Best cuts: One of the most important factors in finding the perfect fit in men's jeans is to pick the right cuts. While baggy jeans may be comfortable and skinny jeans are trendy, sticking to the classics is best. A pair of straight-leg jeans is a valuable addition to your wardrobe. Straight-leg jeans work well for any man and any style. For a more modern look, try boot-cut jeans. The slight flare of boot-cut jeans fits over trendy boots, yet the jeans have a slimmer cut in the thigh that many men prefer.

Consider the occasion: You'll want the right fit of men's jeans for certain occasions. If you're wearing a pair of jeans with a sport coat for a nice dinner or even to the office, look for a slimmer boot-cut jean in a dark wash. For a pair of comfortable weekend jeans, you may want to go for a more relaxed fit with whiskering and distressed details. A pair of casual jeans should be comfortable but still fit well.

Sizing: The best way to find a pair of jeans that fit well is to understand men's sizing. Men's pants are sized according to the waist measurement and inseam. Men's pants sizes will have two measurements listed in the sizing: the first is the waist measurement and the second is the inseam measurement. Measure your own waist and inseam and look for jeans in the correct size.

Test the fit: Once you have found a pair of jeans in the right cut and size, you will still need to test the fit, since not all jeans are made the same. Make sure your jeans are comfortable. If the jeans are too baggy or too tight, you will need to look for another size. You should be able to comfortably fit two fingers in the waistband of your jeans.

Key areas: To determine if your men's jeans are the right size and fit, pay attention to the rise, leg and rear of the jeans. Your pants should fit comfortably around your hips, approximately 3 inches below your belly button. If the waistband is too high or too low, you'll want to look for another size. Similarly, if the rear pockets of your jeans sit too high or too low, you need a different size. Pay attention to the length of the jeans. The hem should hit the top of your shoe with minimal bunching.

Buy Men's Jeans
Back to Guides Directory