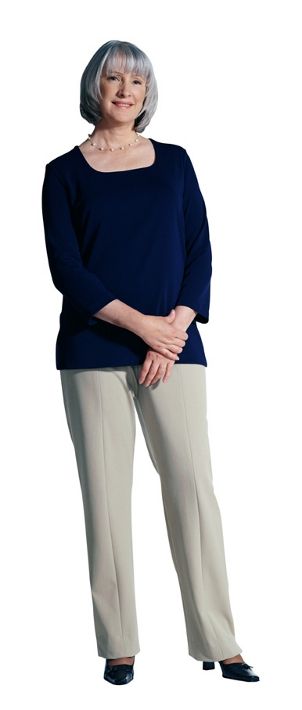 For curvier, full-figured women, finding flattering pants and jeans can sometimes be frustrating. Legs, especially in skinny jeans, are cut slimmer, and waistlines often sit lower, so they do not offer adequate coverage for women with full tummies and bottoms. Finding the right pants, however, just requires some knowledge about the styles that are most flattering to your shape. Follow these tips to discover the pants that will be both slimming and comfortable.
Finding Plus-size Pants:

Choose a dark color. Light-colored jeans and pants only accentuate your legs, so stick with darker colors, such as black, navy blue and brown. Look for dark-wash jeans that look nice for both daytime and for a casual evening out to get more wear out of your plus-size pants.

Go for longer lengths. Pants that are hemmed at the ankles or that have shrunk in the wash and no longer cover your shoes will make you look bigger. Find pants that cover your heel and will not ride up when you sit down. If you plan to wear heels or boots, longer pants that cover the majority of the heel look best.

Avoid trendy styles. Low-cut, skinny and bell-bottom pants are generally not flattering for plus-size women because they emphasize love handles, hug bigger legs or make the lower body appear larger than it is. Fortunately, there are styles that are universally flattering, including bootcut jeans, straight leg jeans and slightly flared jeans. Stay away from light washes or bleached patches because these can also make the legs look larger.

Look for slimming fabrics. Dress pants are complementary to plus-size women because they are usually fitted in the waist and hips and allow more room for curvy legs. However, any pants made from lighter fabrics, such as linen, chiffon, cotton and polyester, will skim the body more gracefully than heavier fabrics such as thick denim or wool.

Stay away from patterns. Stripes and checks will only draw unwanted attention to bigger legs or hips, so stick with solid, dark colors. Pleats should also be avoided, although a center crease in either jeans or dress pants can help to elongate and slim legs.

Find the perfect fit. If you feel certain features on your body are not proportional, purchase a pair of plus-size pants that fits the curviest part of your body. Then have a tailor take in the waist or hips. You won't be happy with a pair of jeans that fits too tightly, no matter how good of a deal you got.

Buy Plus-size Pants
Back to Guides Directory