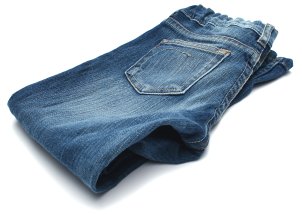 For many women, shopping for jeans can be frustrating. When you find a style you like, it seems impossible to get it to look good on your thighs, bottom, hips and waist, or the length is all wrong. Shopping for new women's jeans doesn't have to be so bad, however, if you know which styles work best for your body type and the cuts that aren't right for you. Follow these tips to find the perfect women's jeans for your body and your budget.
Finding Flattering Jeans:

Get to know your tailor. You may struggle finding jeans that fit because you have areas on your body that are out of proportion. For example, it can be difficult to find jeans when you have a small waist and a large bottom or wide hips and narrow legs. When you buy jeans, find a pair that works with your biggest (and hardest-to-fit) area, and then have a tailor hem them or otherwise alter them to get a custom fit.

Be careful with trends. You may want to buy new jeans impulsively, especially when it seems that everyone is wearing a new style and looking great in them. But the key to looking great in your jeans is to find a style that works for you and stick with it. Skinny jeans are designed to be flattering on women with narrow figures, but those same thin women would be overwhelmed by wide-leg jeans. When you follow trends, be sure to keep a few pairs of classic jeans that will look good no matter what.

Go to the dark side. For a polished, slimming look, pick jeans in dark washes and avoid styles that are bleached or weathered. Light washes and colors can make you look bigger, so only wear these if you have thin legs that you want to visually fill out. Premium denim jeans, or designer jeans, often come in dark washes that can be dressed up with heels or boots.

Wear trouser-leg and straight-leg jeans to smooth curves. Trouser-leg and straight-leg jeans balance thick tummies, and boot-cut jeans also look good, because they flatter the legs.

Choose skinny jeans if you're thin and petite or tall. Skinny jeans, which hug the leg from the waist to the ankle, work well on women who have hourglass figures or nicely proportioned legs. Petite women, however, look good in skinny jeans because the fabric does not overwhelm their frames. Tall women can also wear this style because it elongates the legs and does not cause problems with too-short hems.

Try wide-leg jeans to balance curvy legs. Women with bigger thighs sometimes have trouble finding jeans that are not too tight around their legs. Wide-leg jeans, those that are fitted in the waist and fall straight to the floor, eliminate this problem and can be a dressy alternative for an evening out or a day at work. If you're tall, make sure to purchase jeans in a length that allows for a bit of shrinkage in the wash.

Look for the bottom line. Curvy bottoms look slimmer in straight-leg jeans with pockets with no embroidery or decoration, while women with flat bottoms can wear back pockets with detailing and embellishment. Pockets should always be in proportion to your backside.

Buy Women's Jeans
Back to Guides Directory