How to Find Cheap Quilts
by Staff Writer
Cozy and comfortable, quilts have been a bedding staple in the home for years. However, due to their unique nature, quilts can also be costly. Fortunately, finding cheap quilts isn't impossible; it can actually be quite easy if you know what to look for. Finding good cheap quilts requires a look at what you want out of your quilts, where you'll use them and what styles you prefer. Take a look below to learn how to find cheap quilts.
Finding Cheap Quilts: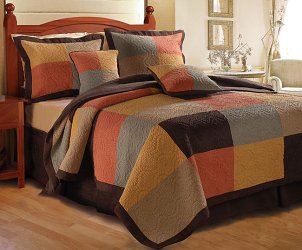 Shop Quilts ▸
Decide what you want:

The first step you will want to take in your quest for cheap quilts is to decide what you want to get out of this type of bedding. Quilts can accomplish a variety of tasks, so it's important to know what jobs you want yours to perform. Some people use quilts to fortify their bedding scheme for winter. If you're looking to add warmth to your bed, cheap quilts can do the job perfectly. Quilts are also terrific for guest rooms, where they can add style and comfort. Another great use for cheap quilts is accessorizing other areas of your home. Try using a cheap quilt as a piece of decor in your entryway or throw one over your sofa to increase comfort while you watch a movie.

Consider style:

Finding cheap quilts is a breeze, but that doesn't matter if you can't find quilts that work with your style and decor. Make your search for clearance quilts easier by deciding beforehand what styles, colors and fabrics you prefer. From solid-colored lightweight quilts to homey patchwork quilts, there is usually a style of quilt for each season.

Look for last season's offerings:

One of the best ways to find stylish, high-quality cheap quilts is to look at last season's offerings. Most quilts that are one-season-old still look chic but are significantly less expensive. Many quilts have timeless style, and the only reason they are "out of date" is because the bedding industry has to produce new products. Shop smart by browsing clearance sales and looking at last season's bedding to find fantastic quilts at fantastic prices.