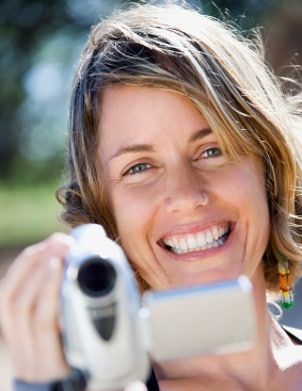 You can shoot great home videos with hand-held camcorders. And you don't need to spend a fortune for a satisfying model. Some features aren't used by the typical shooter. If you know which features are important, you can find cheap camcorders that eliminate unnecessary extras but keep the essentials. Follow these guidelines to find the best cheap camcorders, without sacrificing quality.
Finding Cheap Camcorders:

Standard definition: HD camcorders that shoot in resolutions up to 1080p are simply going to cost more than standard definition. A high-definition camcorder may be great for capturing high detail, but cheap camcorders can record birthdays, soccer games and other events that don't require as detailed a picture in standard definition. You'll find cheap camcorders if you drop HD from your list of requirements.

Optical sensor size: Camcorders use CCD sensors to capture and record light. A smaller sensor doesn't capture as much light, giving you a less detailed picture. But smaller sensors make more affordable camcorders. You'll still have a decent picture, but you'll pay less.

Opt for digital camcorders: Part of the cost of owning a camcorder is the media it uses, like recordable discs. Digital camcorders don't require discs. All you need is a connector cable to upload your videos to a computer. Digital units may actually turn out to be cheap camcorders when you factor in the cost savings.

Sacrifice a bit of memory: If you're looking at digital video cameras, the cheap camcorders usually have less memory. But memory really just indicates how many hours of video you can record on the embedded memory card. You can buy a cheap camcorder and get additional memory cards later. Additional memory cards may turn out to be cheaper than a model with lots of memory.

Value and price considerations: You won't always need to sacrifice quality and features to find a cheap camcorder. Sometimes, you may just need to consider off-brands and refurbished camcorders. Up-and-coming electronics manufacturers often offer cheap camcorders that are loaded with features. And factory refurbished camcorders are often discounted further than they should be, since consumers who are unaware of the refurbishing process tend to avoid them and they often aren't the latest models.

Buy Camcorders
Back to Guides Directory