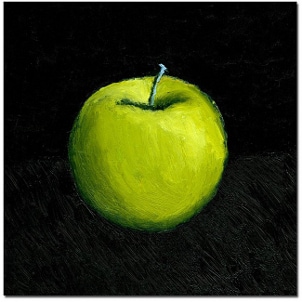 Snow White couldn't resist them. The largest U.S. city is nicknamed after them. One may or may not have helped Sir Isaac Newton formulate his theory of gravity. Apples have become much more than just a tempting fruit that is known to "keep the doctor away." Apples are fun, beautiful, and versatile. Here are some ways you can give the apple the love it deserves.
Fun with Apples:

Cook with them: Apples are delicious. And with all of the different varieties, you're almost certain to find an apple that you love. But eating a plain, raw apple every day can get boring. Changing up the way you eat apples will ensure that you can eat an apple a day and stay excited about it. For a healthy meal, try slicing up an apple in a salad with some crumbled cheese and almonds. An apple spice muffin is a fantastic breakfast go-to. If you're looking for other low-fat dishes with which to let your apples shine, get yourself a cookbook devoted to healthy recipes. If you're looking for something more sinful, look for dessert recipes where apples are the main star. You can't go wrong with an apple pie: It's both delectable and patriotic. Another must-try dessert is the apple crisp recipe below.

Prepare them properly: With any cooking project, using correct cooking utensils can make or break your spirit. A corer/slicer is the best way to cut down on the time it takes toprepare apples. Also keep in mind to wash the apples thoroughly. Some chefs prefer to both wash and peel their apples before cooking with them to ensure they get the fruit and nothing else. If you prefer to peel your apples, a regular vegetable peeler works perfectly.

Visit an orchard: For some extra apple fun, see if there are any local apple orchards in your area. Some orchards offer pick-your-own-apples events. Since fresh apples are the best apples, nothing is better than picking your apples straight from the tree and then enjoying them that evening. Some orchards also have festivals and games during the fall harvest season. What would be more fun than bobbing for apples in the orchard they were grown in?

Decorate with apples: Apples come in all sorts of beautiful, rich colors. Don't be afraid to add some apple-y items to your decor. Embrace the harvest with an apple-shaped dip tray or cookie jar you can use year-round. Or add a splash of the lovely apple-red hue with a red kitchen appliance, like a stand mixer or coffee maker. Maybe a touch of granny smith apple green will wake up your decor. Get some dish towels in the bright color to add some extra charm to your kitchen.

Burn apple-scented candles: If you love the scent of apples but don't want to cook, you still have plenty of options. An apple-scented candle is a welcome addition to any room in your home. The scent of apples is both subdued and refreshing enough that it isn't overpowering. Not only that, but a scented candle will ensure that you can enjoy the fresh scent year-round.
Easy Apple Crisp:

Ingredients:
4 medium tart apples, sliced (about 4 cups)
3/4 cup packed brown sugar
1/2 cup all-purpose flour
1/2 cup quick-cooking oats
1/3 cup butter or margarine, softened
3/4 teaspoon ground nutmeg
Vanilla ice cream (if desired)
Heat oven to 375 degrees F. Grease the bottom and sides of an 8-inch square pan with shortening.

Spread the apples in the pan. In a medium bowl, stir remaining ingredients (except ice cream) together until well mixed, and then sprinkle over the apples.

Bake for 30 minutes or until the topping is golden brown and the apples are tender when pierced with a fork. Serve with ice cream.

Buy Fruits
Back to Guides Directory