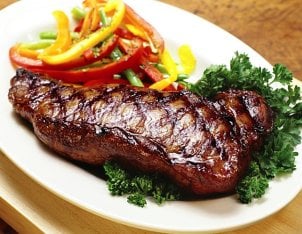 Things You Need:
Seasonal produce and lean meats
Appliances
Multivitamin supplements
Eating healthy year-round is crucial, but it can be difficult as winter settles in. Learning how to eat healthy throughout the winter will not only make you feel great; it'll ensure that you look your best when swimsuit season rolls back around.
Eating Healthy in the Winter:

Use produce that's in season. In most places, winter vegetables include items like potatoes, onions, avocados, chard and kale. Fruits that are in season during winter include bananas, kiwis, lemons and apples. By choosing fruit and vegetables that are in season, you can be sure your food is tasty and loaded with nutrients. Many cities have farmer's markets that are open all year. This is a great way to ensure your produce is as fresh as possible. Generally speaking, the fresher the produce, the more vitamins the produce retains.

Increase use of healthy ingredients. When making cold weather kitchen favorites, like soups and stews, opt for more vegetables and lean meat.

Don't forget your goals. Remember to keep your healthy eating goals in mind during the holidays. This is often a time when people splurge and succumb to temptation. Allow yourself to splurge on your favorite dishes while passing on others. Before holiday parties or get-togethers, eat a small meal. You will be more likely to resist fattier, unhealthy foods on a full stomach.

Increase your vitamin D intake. Since people spend more time indoors during the winter months, vitamin D deficiency during winter is common. Vitamin D helps boost the immune system, so be sure to increase your vitamin D intake during the colder months.

Use more olive oil. Increase your use of olive oil. Olive oil is an excellent, healthy substitute for butter or margarine; keep some handy in your kitchen.

Make use of your appliances. Appliances are great for creating healthy meals. Think about a rice cooker to increase your fiber intake or a blender to create nutrient-rich smoothies.

Take a multivitamin supplement. If you're concerned that your food intake is not adequately meeting the recommended daily values for vitamins and minerals, take a multivitamin supplement to ensure these needs are met.

The content on this site is not intended to substitute for the advice of a qualified physician, pharmacist or other licensed healthcare professional. The products may have additional information and instructions on or inside the packaging that you should carefully read and follow. Contact your healthcare provider immediately if you suspect that you have a medical problem. The use of dietary supplements may not have been evaluated by the Food and Drug Administration and is not intended to diagnose, treat, cure or prevent any disease or health condition.

Buy Kitchen and Dining
Back to Guides Directory