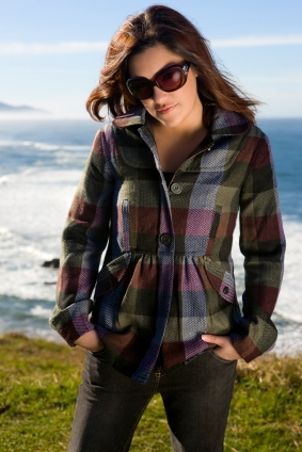 Plaid shirts are no longer reserved solely for construction workers, the grunge scene or the casual cowboy look. When paired with trendy pants or leggings, the classic women's plaid shirt becomes a stylish choice in women's shirts for fall and winter. Top plaid shirts off with hair accessories, a few key pieces of jewelry and a complementary handbag to add style and flair to the classic shirt. Think in terms of the entire outfit when you're coordinating with plaid.
Instructions:

Choose the right fit. Pick a women's plaid shirt in the correct size. Forgo the oversized style that is worn open over a T-shirt. Button up the plaid shirt for a dressy, tailored fit. Pair the top with fitted jeans or skinny jeans for a neat and clean look.

Coordinate with complementary pieces. Choose a pair of black flats and button-style earrings to go with black skinny jeans and a narrow black belt. Add a patent leather handbag in either black or a color that matches your plaid; and you're set.

Go long. Select a flannel shirt that fits correctly, and then choose the extra-tall version. Convert the women's flannel shirt into a tunic-style dress. Coordinate with dark leggings and a chunky belt with a silver buckle. Top the outfit off with long strands of silver beads and silver hoop earrings for a modern twist.

Wear a skirt. A black skirt looks great with knee-high or tall black boots with a heel. Untuck the plaid flannel shirt and add a narrow belt to match the boots. Pair it with a bold, solid-color handbag to match the main color featured in the plaid. Add a matching knit cap or beret for a dressy touch.
Tips:

Choose women's flannel shirts with a unique cut. Ruffled collars, V-neck button-ups and short-sleeve styles offer an alternative to standard long-sleeve women's shirts. Add choker necklaces to V-necks, bangles to short sleeves and skirts and heels to ruffled plaid flannel blouses.

View All Women's Shirts
Back to Guides Directory