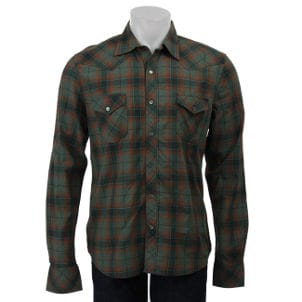 Men are choosing to wear more color and patterns at the office, during business travel and out for dinner on the town. Men's plaid shirts offer an alternative to solid men's dress shirts while maintaining a classic neat appearance. Dress up a plaid shirt by adding accessories and coordinating it with your entire outfit.
Instructions:

Add a solid tie. Choose a solid-colored tie that coordinates with one of the dominant colors in the plaid shirt. For a more formal look, select only dark, subdued colors, such as black, grey or brown. For a casual get-together with a dressy flair, more colorful blues, purples and burgundies are appropriate.

Be daring and add a checkered tie. This look is possible if the plaid and checkered pattern are not of the same size. A tiny, tight checkered pattern looks best, since it gives a simple texture to the tie when viewed from a distance. Men's dress shirts are enhanced by ties in complementary colors, so don't feel that the tie needs to match exactly.

Wear dress pants. Making your entire outfit dressier will in turn dress up the men's plaid shirt. Opt for solid-colored slacks. Pull a dominant but neutral color from the plaid dress shirt. Classic choices include tan, brown, black or navy blue.

Match your belt and shoes to the plaid shirt. Complement the outfit with black or brown leather shoes and belt if those colors are present in the plaid shirt. Make sure the belt is the same color as the dress pants. For example, combine men's shirts featuring black, burgundy and white colors with black pants, a black belt and black leather shoes.

Wear cuff links and a blazer. Add a black blazer to your outfit and you're ready to attend a wedding or try out a five-star bistro. Make sure the blazer and pants coordinate with a dominant color in the plaid dress shirt. Again, stick to neutral black, grey, tan or navy blue. Add decorative cuff links for some extra interest to men's shirts.

View All Men's Dress Shirts
Back to Guides Directory