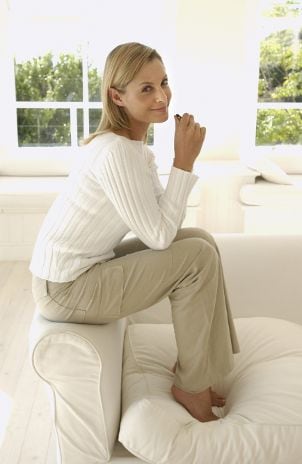 Not everyone can be 5'8 with long legs and a killer catwalk -- but there are a few tips and tricks to use to help you look taller. With some new, fitted women's clothes, taller shoes and styling tips, you'll have friends wondering if it's possible you have sprouted up a few inches overnight. You probably already have the basic components for dressing tall in your existing wardrobe.
Dressing to Look Tall:

Hair's an idea. Shorter hair styles actually make you look taller. Long hair, especially down the back, will cut your height down even more. Ask for a cut that touches your shoulders because it emphasizes your neck and shoulders. If you have petite features, you can probably pull off a pixie cut or a short bob, which will elongate your neck. Put your hair up in a ponytail or bun if you want to keep it longer.

Find the right fit. Many people shy away from tight clothes, feeling too exposed. You don't need to wear your clothes skin tight, but at least try some form-fitting styles. When you have added body definition, it adds visual inches to your appearance.

Ditch those flats. Flat shoes will do absolutely nothing to give you any extra inches. If you want to accentuate long legs or make short legs appear longer, resolve to wear shoes with at least a wedge or short heel. It is a quick and easy way to add two inches or more to your height.

Black is back. Wearing black is a secret that women have long used to look both taller and slimmer. The idea is that you are presenting a unified look, and when others see the uninterrupted lines of dark colors, it gives an impression of length. Be sure to wear heels or wedges with a monochromatic ensemble and add a few pops of color in your shoes or jewelry to avoid looking too somber. If wearing one color is too much for you, simply match your shoes to your pants to elongate your legs.

Get the skinny on clothes. Skinny jeans are a great way to add a few inches, primarily due to their ability to lengthen the look of your legs. Skinny jeans fit quite closely on your whole leg and give a long and attractive look, which can make you look taller.

Stick to stripes. Another great way to add length is by wearing stripes. Vertical stripes give an impression of length and look great when paired with solids. They are especially flattering in pants and can visually elongate your body. If you have a petite frame, however, avoid thick stripes and stick with narrow pinstripes.

Improve your posture. Stand straight and don't fall into bad habits, like slouching while standing or sitting. Breathe deeply from your chest and keep your head held high. Proper posture not only makes you look taller, but it also helps you to feel better and to have a boost of confidence.

Buy Women's Clothing
Back to Guides Directory