If you've been invited to a beach wedding, you're probably equal parts excited and stressed out. On one hand, you have a great vacation opportunity, plus it's time well-spent with friends and family. On the other hand, what on earth are you supposed to wear?
Beach wedding attire is different from other wedding wear, but it's still determined by four important factors: weather, theme, color, and formality. Keep reading to learn how to nail your beach wedding outfit every single time.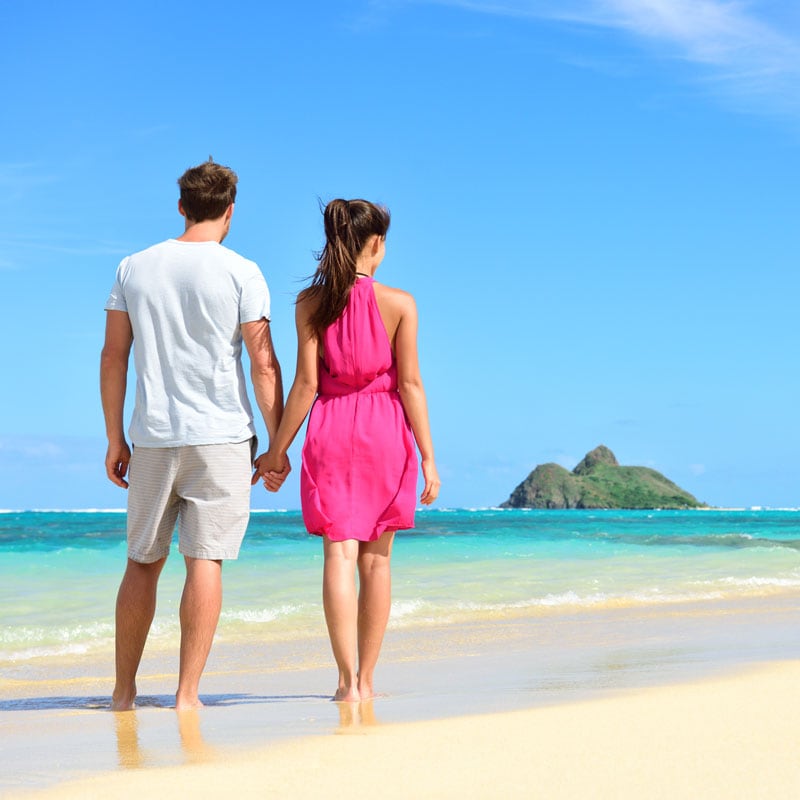 Weather
Ah, mother nature. She usually keeps the beach warm and breezy, but you never know when a storm will creep up or a heat wave will leave you sweating in your sundress. Our advice is simple: check the weather and come prepared. Wear light fabrics that will help you stay cool in the sun and won't stick to your skin. Think chiffon, linen, organza, and cotton blends that will help keep you cool under the sun.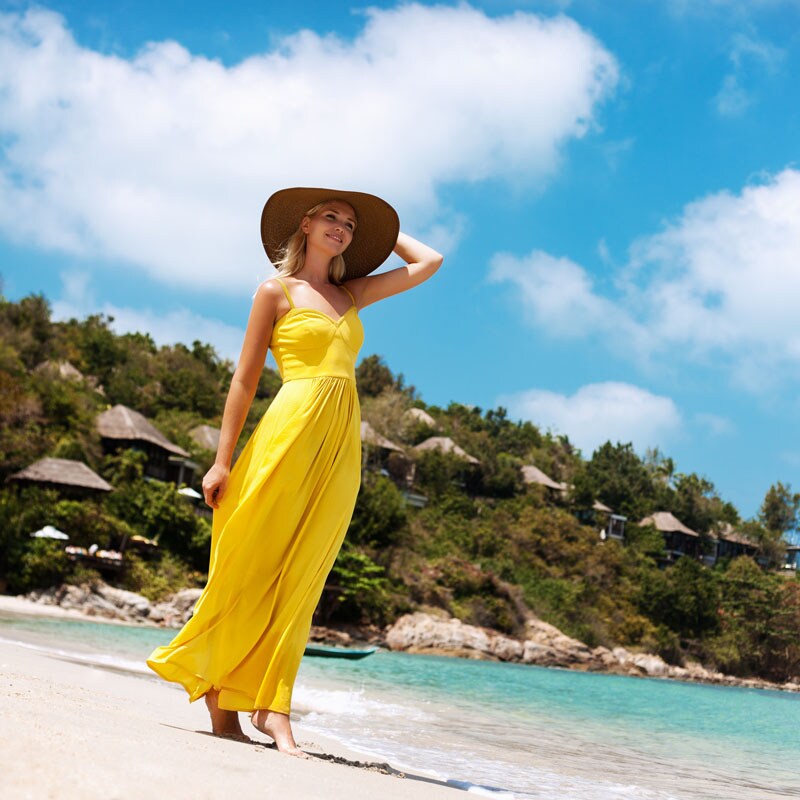 Color
It might go without saying, but light and bright colors are the gold standard when it comes to picking your dress for a beach wedding. On a happy day by crystal blue water with your feet in the sand, your outfit should be just as sunny. If the bride has a color scheme she wants guests to adhere to, consider her color palette and look for shades that flatter your skin tone.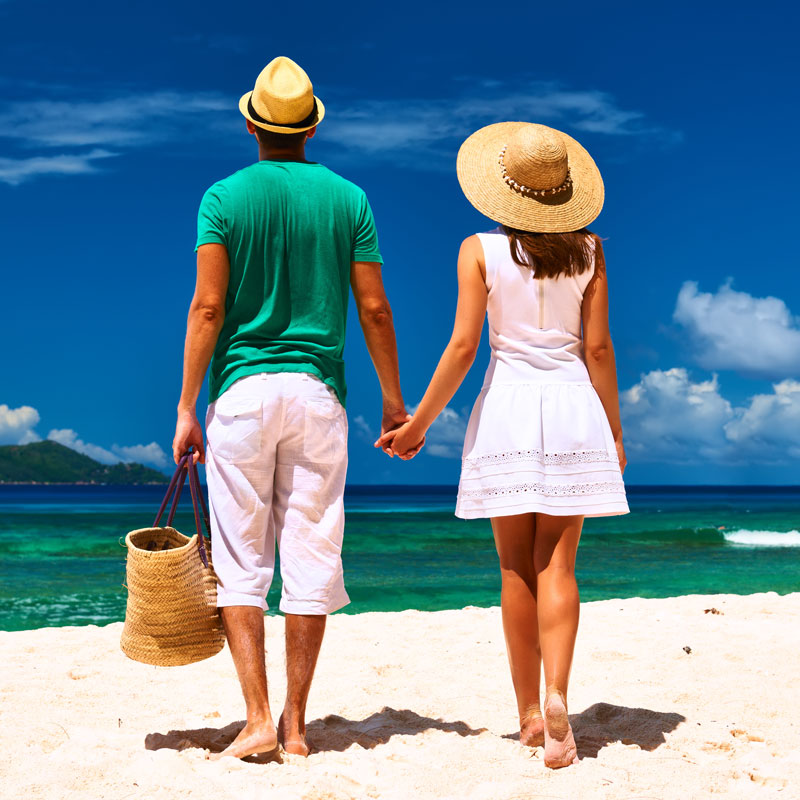 Formality
Beach weddings are usually casual, but don't get caught in a casual outfit if the beach wedding you plan to attend is a formal affair.
Casual: This is the most common type of beach wedding. A simple sundress for women fits the occasion, and khaki or linen shorts and shirt for men are appropriate. Casual beach weddings are usually held during the day, and wearing flip-flops or even going barefoot is acceptable.
Semi-Formal: A semi-formal beach wedding usually means an evening ceremony and reception to follow. Though beach clothing is still light and breezy, semi-formal men's beach wedding attire should involve khaki, linen, or seersucker pants, a button down, and a sport coat. Women should look for cocktail or tea-length dresses made of a dressy material. Lace, chiffon, and organza are all beautiful and comfortable choices.
Formal: While rare, formal beach weddings do exist! These are almost always held in the evening, followed by a reception that often involves a cocktail hour, dinner, and dancing. Floor-length gowns are the standard for ladies, while a suit is the general rule for men.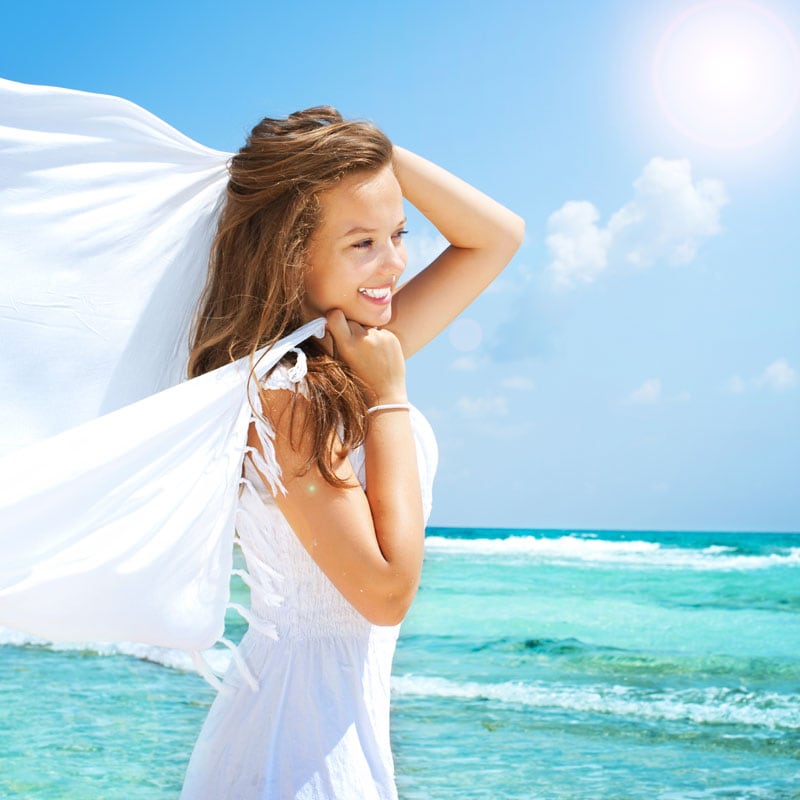 Accessories
Although beach wedding looks are a little more toned down, they're fun to accessorize! Have fun with bangles or bejeweled earrings and carry a clutch or small cross body purse. If you're pulling your hair back, add to your style with a headscarf or hair clip. Don't forget a light jacket or wrap for sensible accessorizing when things cool down in the evening.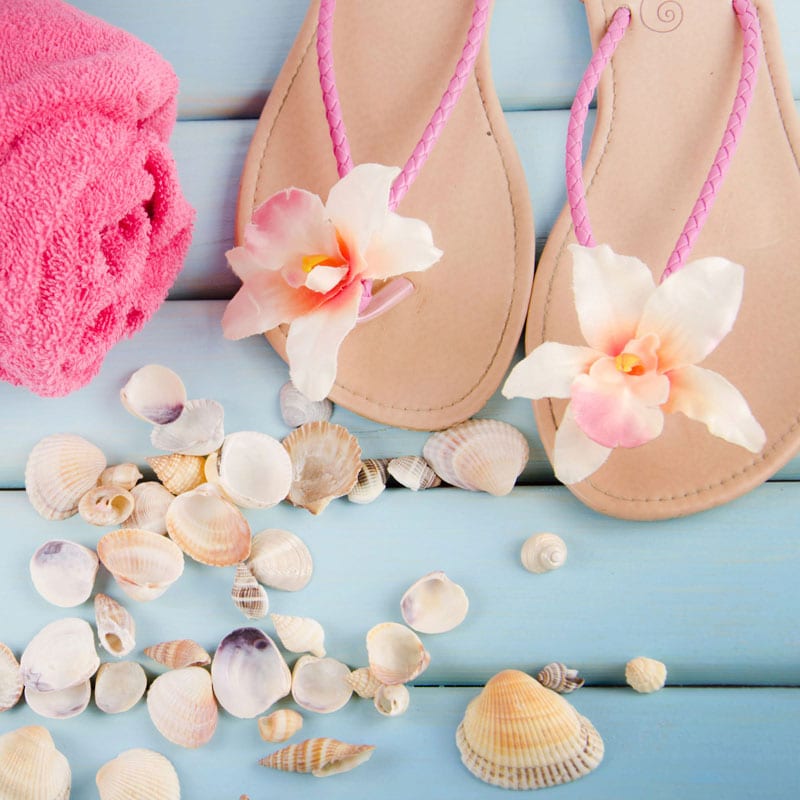 Shoes
The idea of wearing shoes in the sand might seem a little pointless, but beach wedding shoes might actually be more important than you realize. What sort of beach shoes do you wear? Are wedding-flip flops a real thing? If the wedding is on a pier or near a boardwalk, or the reception is at a different indoor location, you'll likely be glad to have something on your feet.
For men, leather flip-flops or other sandals are appropriate at casual beach weddings, but you can't go wrong with a light-colored loafer or boat shoe.
Even formal beach weddings don't typically call for sky-high heels or wedges, since these can be difficult to walk in. Try dressy gladiator sandals or ballet flats, which are sure to be both comfortable and stylish. If you really want to rock a favorite pair of stilettos at a formal beach wedding, bring a pair to change into before the reception gets started.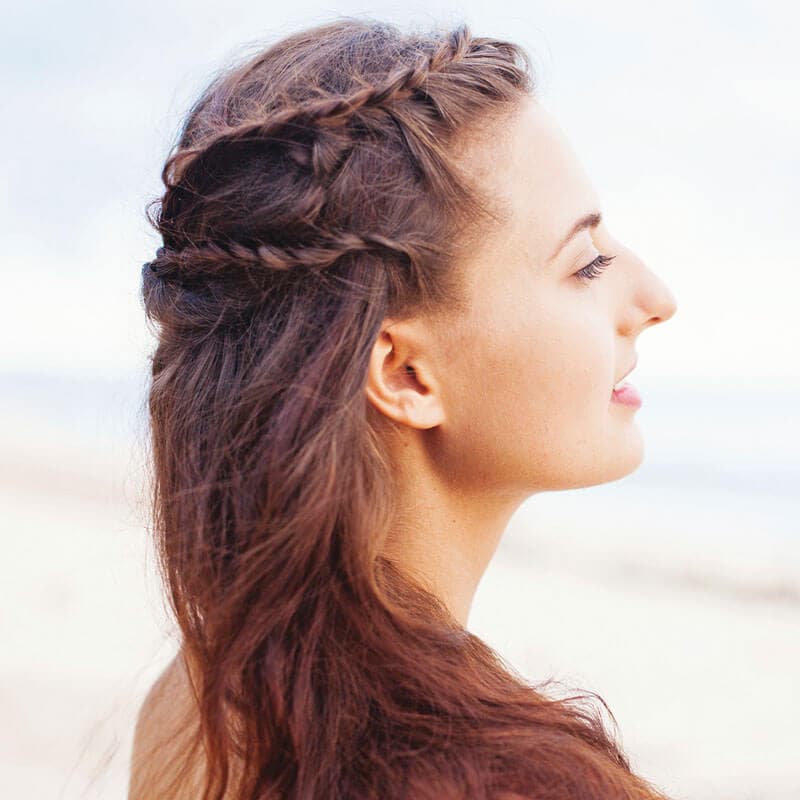 Hair
Of course you want your hair and makeup to look perfect for all the pictures you'll be snapping with loved ones. However, there's some practical advice to be followed where your hair is concerned.
There's nothing worse than flyaway hairs getting in your face, sticking to you lipstick, and making you look disheveled on a breezy beach. If you have long hair, consider pinning it back with a pretty clip or bobby pins. For maximum and cool comfort, go for an updo to keep your hair off your neck and in place.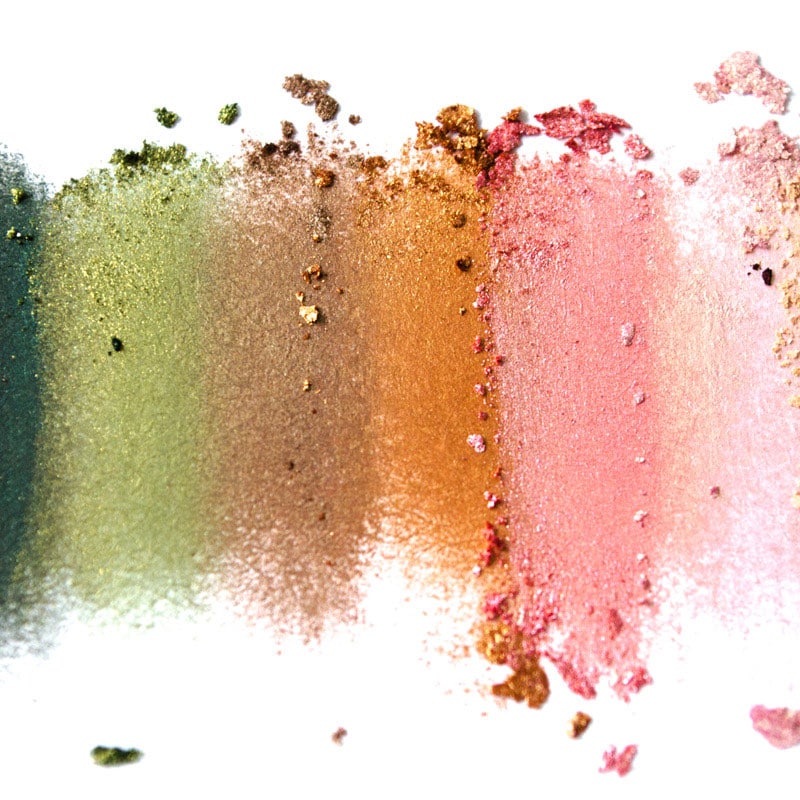 Make Up
A beach wedding is not the time to wear your dark, vampy lipstick or a smoky eye. Heavy make up will be hard to maintain in heat, because increased sweat means your eye makeup and foundation might run or smudge.
If you think it will be a long night, or if you're a member of a wedding party trying to keep picture-perfect makeup for hours, consider a makeup setting spray or powder. Don't forget the waterproof mascara!
Natural makeup can still make a statement and flatter anyone without being overwhelming or taking over the bride's look. Modest amounts of foundation and eye makeup give a soft, dewy look that is perfect for the beach setting. If you want your makeup to have a subtle pop, opt for a pale pink or coral lip color or pastel eyeliner.
Olivia has been to a beach wedding or two, and wants to help you look and feel your best on the big day. A few of Olivia's favorite things are reading as a form of procrastination, hip-hop, dogs, Southern biscuits and gravy, bucket lists she'll never finish, and the satisfaction of painting over beige walls.