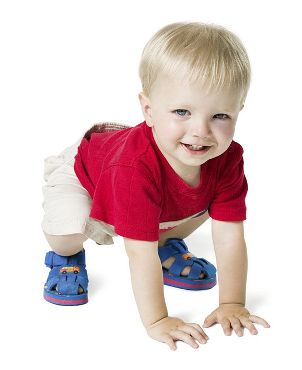 Things You Need:
One-piece baby suit
Shorts
Shirt
Cardigan or jacket
Socks
Baby sunscreen
Bonnet or hat
If you have a summer baby, then most people will probably tell you that you are lucky not to have to load up on infant snowsuits or keep your baby indoors for months. But every season poses its own unique challenges when it comes to dressing your baby because there are so many different types of baby clothing available, and you will want to choose the right articles to keep your little one comfortable. Our tips on how to dress a baby for summer will make going out with your child in the warmer months simpler.
Dressing a Baby for Summer:

Use layers. One of the first things to keep in mind when considering how to dress a baby for summer is that layers are extremely helpful. As your baby travels between the outside heat and indoor air conditioning, he can experience unpleasant temperature changes. When you are dressing your baby for warm weather, start with a basic one-piece body suit. These handy pieces of baby clothing can stand alone as a baby outfit or be an undershirt. Add shorts, a shirt, a cardigan or jacket and a pair of socks to your baby's outfit as needed to minimize temperature change. If you will be indoors for an extended period of time, put a few extra layers of baby clothing on your baby, then take them off if you will be outdoors for more than a few minutes.

Protect from the sun. Babies have very sensitive skin that can get burned on just a short walk. Baby sunscreen should be applied to your little one's skin whenever you will be outdoors for more than a few minutes. Pay special attention to your baby's face, scalp, neck, arms, legs and ears when applying sunscreen. A bonnet or hat will help protect your baby's skin against the sun while also keeping her cool, so it is always a good idea to have one on hand during the summer.

Consider fabric color and type. Just as when dressing yourself, it is best to use lightweight fabrics and light colors when choosing baby clothing during the summer. Cotton undershirts, socks and hats are breathable and can add to your baby's outfit without keeping her too warm. Similarly, dresses and T-shirts in white, pink and light blue will help reflect light and avoid overheating your little one.
Tips:

If you are unsure of how to dress your baby for a specific activity, just remember that your child has similar clothing needs to your own and dress your baby as you are dressing yourself.

Keeping a variety of clothing on hand in your baby's diaper bag will help you to always be prepared for a variety of situations. If you think you might need it, take it with you.

Buy Baby Clothing
Back to Guides Directory