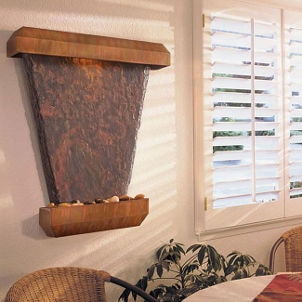 Make your home an elegant retreat when you buy indoor fountains to display in any room. Whether you want tabletop fountains to dress up your dining room table or indoor wall fountains for a stunning entryway, a few tips can help you decorate your home stylishly with decorative fountains. Read on for ideas on displaying indoor fountains.
Displaying Indoor Fountains:

Keep other decor simple. If you want your wall fountains to stand out in a hallway, clean up the space so they instantly catch the eye. Neutral paint and a tasteful side table are the easiest ways to set off indoor wall fountains; a classic bench or a sculpted mirror will also add interest to your wall fountains.

Polish up an old end table. If lamps seem too boring for your living room, why not buy table fountains to display on your end tables? Some tabletop indoor fountains also include LED candles, which lend a soft glow to the room. Shop for table fountains that plug into a nearby outlet so they run continuously to create feng shui.

Create serenity in the bedroom. When you want to relax after a long day at work, tabletop fountains that incorporate river rocks and cascading water can add to a peaceful atmosphere. Display these indoor water features on a nightstand for easy access, or place them on a wall shelf or hutch for a different look. Color-changing LED decorative fountains can even create colorful patterns in a dark room, and the sound of trickling water fountains can help you unwind in the evening.

Make dinner more special. Impress family and friends who come to dinner when you place tabletop indoor fountains on the dining room table as centerpieces. Elaborate indoor water fountains with color-changing LED lights, cascading water and earthy colors will make a great impression on holidays or other special occasions.

Add color to your office. Why should your work space be sparse and boring? Look for indoor water features that bring texture and comforting sounds to your office. Water fountains with pebbles, LED candles and bubbling water will also impress clients or friends who drop in. Make sure to buy indoor water fountains with extra-quiet pumps so you won't be distracted as you work.

Buy Indoor Fountains
Back to Guides Directory