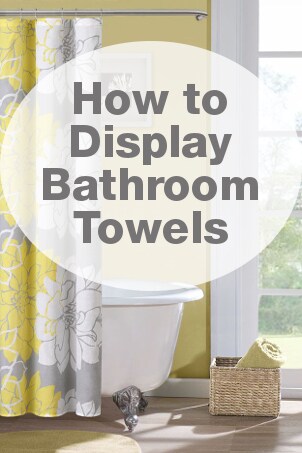 The time has come to pull those stacks of bathroom towels out of the linen closet. The fact is those colors, patterns, and textures can add visual pop to an otherwise plain bathroom. Adding layers and textiles also softens the prevalence of cold, sleek, and glossy surfaces. Here's how to style your towels and put them on display.
Displaying Bath Towels:

Assess your current inventory of towels. Pull out your bathroom towels, be they bath sheets or washcloths, retro patterns or sleek new designs and materials. Some pieces may seem too raggedy for display while others may not seem to coordinate with your current bathroom decor. Don't rule out the ugly ducklings, however, until you see how they look in combination with other towels.

Supplement your current inventory. If you find your set of bathroom towels uninspiring, you can add a dash of style by purchasing a couple more hand towels in bright colors or patterns. If your stack of plain white towels feels too basic or cold, add some pale green for an eco-design look or some bright aqua for a modern bohemian accent.

Hang towels in layers. If you have basic towel bars, the first strategy involves stacking towels according to size. Begin with a bath sheet and fold a hand towel over it, ending with a washcloth. Have some fun by adding a washcloth in a contrasting color or pattern, such as poppy orange on top of fuchsia or sunny yellow flowers on top of solid lavender. Make sure you designate a space for towels that need to dry; it will help them properly air out.

Create towel displays in other areas of the bathroom. A floating shelf can hold baskets or buckets with tightly rolled washcloths or hand towels in various colors and patterns. Give a tall, narrow metal shelf in a corner much-needed color with stacks of fluffy towels. Make a shabby chic chair in antique white regal with a haphazard pile of towels in faded florals, stripes, fleur-de-lis, and paisley.

Use towels in surprising ways or in unexpected places. Wrap a towel around a cushion for a wicker chair in a bathroom corner. Instead of hooks, try modern towel clips for holding up towels in tight spaces. A small ladder can provide unconventional vertical storage and display space for bathroom towels. In very small spaces, a wicker basket or bucket can hold rolled-up towels on the floor.
What Do You Want to Do Next?

Shop Bath Towels
Shop Bath Sheets
Shop All Towels
See All Guides
Read More Home Guides
Learn More about Bath Decor