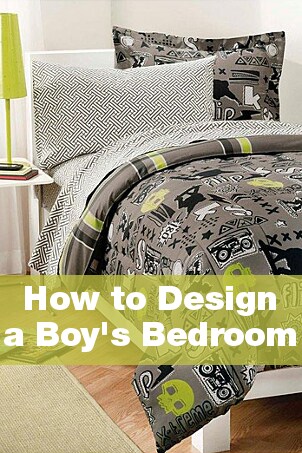 SHOP KIDS' PRODUCTS NOW >>
Whether you're turning your little boy's nursery into a toddler's room or updating your teen son's bedroom, you'll want to start with a plan. Be sure to include multipurpose kids' furniture, smart storage solutions, and decorations that he'll appreciate. Here are the steps to follow when designing his bedroom as well as a shopping list for the kids' products you'll need.
Boy's Bedroom Ideas:

Start with the largest pieces of furniture. Look for pieces that can grow with your child, like convertible cribs that turn into toddler beds and daybeds, or changing tables can be transformed into dressers or desk.

Boys' Furniture to Shop For:

A bed: Once your little boy grows out of his crib, you can use a toddler bed or have him graduate right to a larger bed. Storage beds, bunk beds, and trundle beds are a few multipurpose styles to consider. Read our guide on the best kids' bed styles for boys to narrow down your choice.

A dresser: Once you've chosen a bed, look for a dresser in a similar style with a coordinating wood finish or color. Low dressers with drawers your little one can reach are important if your son is still very young.

Storage: In addition to storing his clothes, you'll need to store his toys and books. A bookcase will work, especially if the upper shelves are used just for decor and the lower shelves are used for the toys he can get himself. You may also want to consider a toy box or a shelving unit with storage bins that make cleaning up after playtime much easier.

A homework desk: Very young children may just want a small craft table, but an older child needs a place to do homework. If you want to include this in his bedroom, read our guide on creating a homework zone.

Choose a design theme: After you have the furniture, you can finalize your design theme, which can be as simple as a color scheme. Use the colors and styles of the pieces you chose to guide your decision, and make sure to consider your son's interests. Even very young children will have a favorite color or topic.

Shop for pieces that reflect the theme: Shop for accessories that you can update as your son grows. Wall decor and other decorative accessories are easy to change as your child's interests change.

Boys' Bedroom Decorations:

Implement your design: Now that you have everything, it's time to get it into his room. It helps to have a plan for this process.

Steps to Decorating Your Son's Bedroom:

Clear out and clean up his room: Take this opportunity to edit your son's belongings. Discard or donate any broken toys, too-small clothing, and duplicate or unused items to help create more space for him to grow. Clean all surfaces, including corners, trim, door frames, window frames, and floors.

Paint or redo floors now: If your design includes new carpet, refinished wood floor, paint, or wallpaper, now is the time to do it.

Bring the large pieces into the room: Put the area rug down first, then the bed, dresser, storage furniture, and desk.

Add the accessories: Make the bed with the bedding, install the lighting, and hang the art. Finish by filling the dresser with his clothes and the putting the toys away.

Shop Kids' Furniture
Shop Kids' Bedding
Shop All Kids' Products
See All Guides
Read More Furniture Guides
Learn More about Kids' Furniture