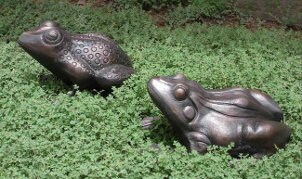 Your garden should be a place you go to relax and unwind; garden accents are designed to make the experiences even more enjoyable than they would otherwise be. For the novice gardener or an experienced green thumb, garden statues are a fun, easy way to make your garden unique and fun. If you need tips on how to decorate your yard with garden statues, then you've come to the right place; read on and get ready to spruce up your yard.
Decorating with Garden Statues:

Go classical: Enthusiasts of traditional gardens will appreciate conventional garden statues. These include everything from birdbaths to reproductions of famous statues and can make any back yard into a classical paradise. Attract birds with a pedestal birdbath or pay homage to the great sculptors of the past with a replica of your favorite statue. Let the masters inspire you to read a great book, weed your garden or just unwind on the porch; relax, they're not here to judge.

Go kitsch: If you're looking to make your garden more fun than your neighbor's yard, then kitschy garden statues might be perfect or you. Garden gnomes and pink flamingos, once frowned upon, have gained popularity because of the whimsical charm they add to any yard. You can also accent your yard with fanciful fairies or frolicking animals; when decorating with garden statues, you're limited only by your imagination.

Put the "fun" in functional: Decorating with garden statues makes your yard more inviting, and to keep it that way, you want to have seats available for you and your guests. Garden benches, whether carved or basic, are a welcome addition to any garden. Placed by a bush, your garden bench can provide a place to comfortably prune the roses, or situated under a tree, it can present a bibliophile with the perfect place to devour a new book.

Take time into account: Depending on the materials your garden statues are crafted from, they may change in appearance over time. A copper statue will slowly turn green with the passage of time; stone statues may develop a pattern of staining or discoloration; and wooden art will show wear when exposed to the elements. None of these are necessarily bad features of garden statues as long as you take them into account when planning your garden.

Buy Garden Accents
Back to Guides Directory