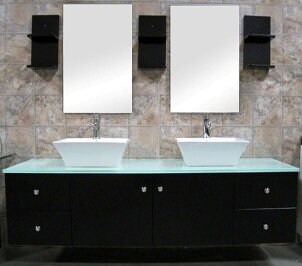 It's the center of your morning routine, so your bathroom vanity should be beautiful and functional. To optimize your vanity space, you need to make sure there's enough storage for the things you need and that you've removed the things you don't need. Follow these steps to create a useful and attractive space.
Vanity Decorating Tips:

Start by cleaning it. Remove everything from your countertop and clean everything, including the sink and faucet, with the appropriate product for the materials. Wipe off water spots and soap rings and watch especially for mildew spots. Cleaning your bathroom vanity and cabinetry will add some sparkle to your bathroom.

Start with necessities first. If the vanity is too crowded, you will lose function, so start with your necessities, such as your toothbrush, soap holder, and a cup. Analyze how much space is left over. Look at your vanity and see if it's too crowded. If your necessities leave you no room for anything else, maybe it's time to upgrade to a larger bathroom vanity. You may also need to make sure you're using the drawers efficiently. Are there things on your countertop that could be tucked away? Add organizers to the drawers, if that will help you find things in there more easily.

Add matching accessories. Look for a set of bathroom accessories that has all the pieces you'll need. These usually include a soap dish, toothbrush holder, lotion dispenser, wastebasket, and tissue holder. Matching containers to hold cotton swabs or cotton balls are also a lovely and useful addition. Towels are an inexpensive bathroom decoration that can add a pop of color that you can change every time you do the laundry.

Upgrade the functional pieces. Sometimes just adding more light will give your bathroom a new look. Illuminate your morning routine with a new vanity fixture over your mirror or with a set of sconces, one on each side of the mirror. Choose a light fixture that has the same metal as your faucet and drawer pulls for a cohesive look. If the mirror is bringing down the room, change it out for a pretty framed version or add a medicine cabinet that will give you more storage space. The drawer pulls on your vanity are even easier to upgrade; if you choose hardware that uses the same number of holes, all you'll need is a screwdriver and a little bit of time.

Finish with a well-edited collection of decorative accessories. A pretty scented candle is perfect on a vanity countertop. A small potted plant adds a bit of life to the room (choose one that likes the steam form your shower). Even a small sculpture could work well on your vanity. Just try not to add too many decorative accessories, otherwise you'll take away from the functional, clean feel.
What Do You Want to Do Next?

Shop Bathroom Vanities
Shop Bathroom Accessories
Shop All Bathroom
See All Guides
Read More Home Guides
Learn More about Bath Decor