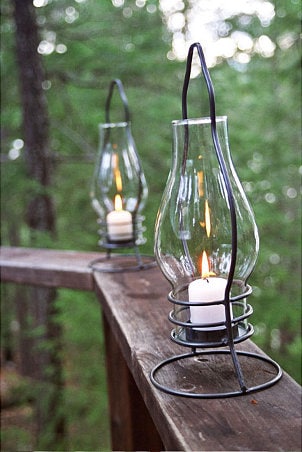 It's easy to spend time outdoors during the day, but at night you'll need some lighting to fully enjoy your patio. There are a lot of outdoor lighting options available for your patio and yard, including wire-in and solar lights. Your patio lights, however, should not only help you see, but also make your patio look better.
Decorating Your Patio with Lights:

Overhead ambiance: Lighting from above sheds plenty of light on your patio at night and can create a beautiful, relaxing scene. Use bistro-style string lights to give your patio an outdoor cafe feel all summer long or to decorate for a party. Paper lanterns are another beautiful way to add overhead lighting. Some models attach to string lights and others are self-lighted. You can choose classic white or liven things up with bright colors.

Firelight: Flickering candles are always beautiful and can certainly set a romantic mood on a summer evening. If you choose citronella candles for your patio, they will help keep the bugs away at the same time. Tiki torches are another easy way to light your patio. They can be staked around the perimeter of your patio or wherever you need a little light. They provide a fun, tropical effect and can also help keep bugs away.

Around the edges: Placing lighting around the perimeter of your patio creates a unique effect and can help you highlight the surrounding landscaping. Show off low flowerbeds and give the patio floor some attention with some small stake lights or highlight trees and other large elements with ground spotlights. Use lanterns on hooks as a beautiful way to light your patio and line a walkway leading up to it.

Four walls: Most patios have at least one surrounding wall, if not more. Take advantage of the wall space and add some wall lighting elements. Wired-in lighting works well on the outside walls of houses and sheds and gives you an easy way to keep your backyard well lit. Decorative sconces are another option and can even be hung on fences. Look for sconces you can place candles in or solar models that light themselves.

Buy Outdoor Lighting
Back to Guides Directory