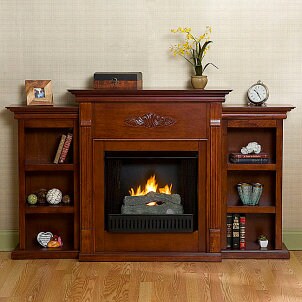 Depending on how you choose to decorate your indoor fireplace mantel, it can be the room's focal point or an extension of an already established theme. The only thing that can make indoor fireplaces more warm and welcoming is the right decorative accessories along the mantelpiece. Plan your fireplace decor carefully because there are a few common decorating traps when it comes to mantels. Some people crowd the mantel with too many small pieces, while others resort to symmetrical arrangements of objects all the same height. Think about your mantel as a gallery with the potential for rotating exhibits.
Decorating Your Fireplace:

Make the most of your mantel. Adding architectural elements to an existing mantel can give it more visual power. You can extend a mantel ledge by floating narrow shelves next to it in the same color or finish. Place sconces below a fireplace mantle to give it a classic look.

Consider different paint colors and finishes for your fireplace mantel. Most people blend a fireplace mantel's color to match the surrounding walls. You can also match a mantel to the room's trim, door frames or window frames. Faux finishes in stone or antique whitewash add a rustic look.

Determine a focal point for the mantel. Just like the room, a mantel functions best when it holds a prominent piece. Many people hang a framed mirror or large painting above a fireplace. Be sure to hang these elements relatively low over the mantel or even prop them on the mantel against the wall. A triptych or thematic set of paintings can function as a larger work of art as well.

Accessorize the surface of your fireplace mantel. Try a combination of pieces, such as three vases of different heights or candles in various colors. Incorporate a piece that sparks conversation, such as a souvenir from world travels or a family heirloom.

Integrate a decor theme with your fireplace mantel style. A scattering of coral, shells and sea stars establishes a nautical theme. Unframed paintings and drawings combined with wine bottles stuffed with candles has a bohemian effect. A simple line of tea lights anchored by a glass vase holding a single blossom has minimalist sophistication.
Warnings and tips:

Rotate your fireplace mantel decor to keep the look fresh and seasonal.

Fireplace decor should never impede the use of the fireplace. Remove garlands and other low-hanging decorations before starting a fire.

Buy Indoor Fireplaces
Back to Guides Directory