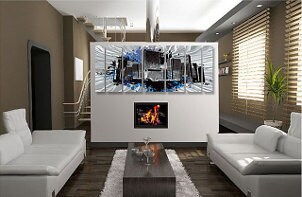 When you have a big space to fill, oversized art can make the statement you're looking for. Whether it's an abstract painting or a haunting photograph, placing large art around your home gives it the sophisticated feel of an art gallery. This guide explores a few ways to decorate with oversized art pieces.
Decorating with Oversized Art:

Find furniture that is proportional. Large canvas art can dwarf smaller pieces of furniture, so in order to avoid making your room look unbalanced, pair art with big furniture. If you plan on putting oversized art above your bed, for example, complement it with a leather upholstered headboard that visually takes up space. Overstuffed sectionals also pair perfectly with oversized art.

Keep other accessories minimal. To make sure your large art piece is the center of attention, keep other patterns in the room to a minimum. The art will provide enough decoration, so stick to solid-colored curtains and rugs. The best way to highlight a painting or photo is to decorate using accent colors pulled from the painting in a subtle way. Try colorful throw pillows for the living room or using matching slipcovers in the dining room.

Break up art into sections. If hanging one solid canvas is too intimidating, look for art sets that feature a singular concept broken down into 3 to 7 panels. These panels can be hung in a straight formation or at different angles. The space between them makes this type of art feel less imposing and is good if you have low ceilings or small windows that might not work with a singular piece of large art.

Make it the focal point of the room. Don't try to fight the drama of oversized art by forcing it to compete with other large or decorative items. Instead, embrace the visual square footage and make it the focal point of a room. Keep other accessories minimal and use furniture with simple lines as a base for the room. If you plan on making a wall collage featuring oversized art, make sure it uses complementary colors and shapes.

Buy Oversized Art
Back to Guides Directory