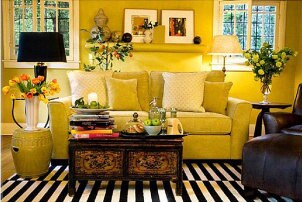 Whether you have a light-filled courtyard and gazebo or a dark, forgotten corner in a room, flowers and plants provide a dash of color and life in a space. Decorating with fresh flowers demands a certain amount of maintenance involving plucking dried or wilted blossoms, changing water and supplying fresh blooms. If you don't have the time and money to invest in fresh flower arrangements, consider silk plants and floral arrangements instead. Start simply and gradually add in more decorative touches as you incorporate flowers into your home decor. Whether you prefer fresh flowers or silk floral arrangements, you will gather lots of fresh inspiration from the following ideas.
Decorating with Flowers:

Create a striking setting for flowers. If you are using a small table or shelf, you might paint it antique white to let the colors of flowers and leaves stand out. You can also cover a table with lace or a swatch of solid color fabric to protect the table's finish and create a light backdrop. Try white, eggshell, muted green or sunny yellow for a bright look with high contrast, or try a bamboo or rattan mat for a more subdued and natural appearance.

Use different types of containers to hold flowers. A tall, glass vase sets a striking look for a single blossom. A painted, ceramic pitcher adds farmhouse style, particularly when filled with cornflowers, sunflowers or wildflowers. A line of Mason jars, glass bottles and small glass vases can adorn a windowsill, a rustic wooden shelf or the top of a buffet or sideboard. Small buckets function well indoors and out, gaining a patina of age through the seasons.

Try flowers in different arrangements. An elaborate bouquet of roses in a white china vase deserves center stage on a dining room table or as a garden party decoration. A bunch of hydrangea provides a burst of color on a floating shelf in the bathroom or kitchen, while smaller blossoms such as orchids, daisies or carnations fit perfectly into small glass tubes to set by each guest's place at a table.

Diversify the elements in your floral decor. A flowering plant provides long-term enjoyment. Place plants on metal stands or tables with dishes underneath to allow proper drainage and protect surfaces. Flowering vines can adorn a doorway or window frame. A terrace, patio or deck provides the ideal setting for container gardens, integrating flowers, herbs and even vegetables or fruit trees.

Extend the floral theme with decorative accessories. A nature mural opens up space and provides a bold backdrop. Dried flowers in wreaths, bouquets and twined through baskets add a folksy look to the home. Paper flowers and silk plants have the international glamour of a Mexican hacienda or an Asian palace. Use stencils and paint to create flowered borders on furniture and walls.

Buy Silk Plants
Back to Guides Directory