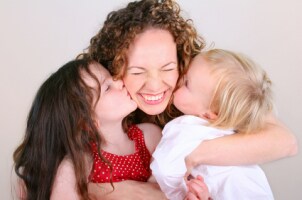 Normally restrained decorators tend to let loose when decorating toddler bedrooms. After all, the color and pattern palette of kids' furniture and bedroom decor tends to be far more diverse than those for adult bedrooms. You can begin with a few large pieces of kids' furniture, such as a toddler bed, kid dresser and storage shelving. Add a theme or a palette and work from there or just add some simple textiles and wall art for a few decorative accents.
Toddler Bedroom Decor:

Clear the space. You need to cut out clutter and limit belongings to make a bedroom's decor shine. Establish a system for processing and hiding toys and other items, be it baskets and containers on shelving or a closet with an organizing system.

Instill a color scheme. You need not be heavy-handed and make everything ocean blue or princess pink, but choosing a couple of core complementary colors can help bring a room together. Try an accent wall in a bold color or use wallpaper or a packaged mural kit to cover the wall in thematic imagery. Pick up colors, patterns, textures and shapes on textiles, throw pillows or furniture trim. Some fun color combinations for toddler bedrooms include fuchsia and orange, aqua and cotton candy pink, periwinkle and antique white, turquoise and celadon or sunny yellow paired with just about anything.

Focus on key utilitarian kids' furniture that will grow with your toddler. The bed should be the focal point of the room. If your toddler is just graduating to a toddler bed, keep the crib in the room for a while if possible, in case he needs to transition back and forth. Some people like low bed frames with full guard rails, while others choose partial rails that can be removed eventually. Make a toy shelf another area of focus. You can bolt a tall bookshelf to the wall to keep it more stable and fill the bottom shelf with heavier toys. Display art projects, hand prints or family photographs on the top shelves beyond reach.

Present toys, art supplies, day care supplies and books artfully to marry form and function. Fill a wicker basket with wooden toys for a rustic look. Line up a selection of books along a ledge so that your toddler can see the covers. Keep another stack of books on a nightstand by the bed for evening story time. Transform a forgotten corner into an art area by outfitting it with an easel or a low table and chair. Keep cups or cans nearby filled with pencils, erasers, stickers, rubber stamps, collage cut-outs and other inspirational materials.

Accessorize your toddler bedroom to give it unique style. A bright blanket or comforter in a chosen color scheme or theme sets the tone. A thick area rug or play mat provides the perfect surface for building block towers or just rolling around. Children's wall art brightens up the walls and reinforces a theme.
Warnings and tips:

Have your toddler do a small project to add to the room's decor, such as painting a picture.

Avoid using long drapes, hanging cords or wiring in toddler bedrooms.

Buy Kids' Furniture
Back to Guides Directory