It's hard to believe there was a time when bookshelves in the home were stacked with nothing but rows of books and encyclopedias, resembling a wall at the local library. Nowadays, bookshelf design has taken on a whole new meaning as home decorators use this space to display everything, including family photos, art pieces, antiques, keepsakes, and other decorative accessories.
Adding your favorite mementos and cherished items to your shelf or bookcase helps create a feeling of warmth and coziness, all while making your home more beautiful. Check out these helpful tips on how to decorate shelves, and turn your ordinary bookcase into a gorgeous display of your personal style.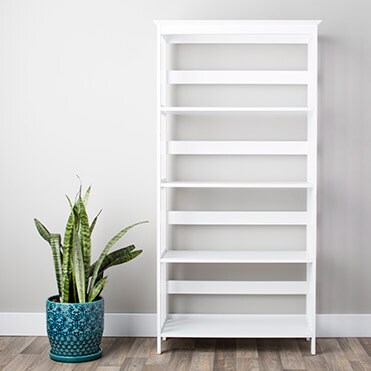 1) Clean Off Your Shelves
Before you begin your shelf design, you'll want to start with a clean slate. If you already have items on your bookcase, take everything off and give each shelf a thorough dusting. Clean off all of your decorative accessories and gently dust your books. Try to visualize the space you are working with and roughly estimate how many items will fill your bookcase. Next, pull together a handful of books and accent pieces that you want to use in your bookshelf design. It's okay to grab more than you need, as you can always eliminate the extras once you get started. Now you're ready to decorate!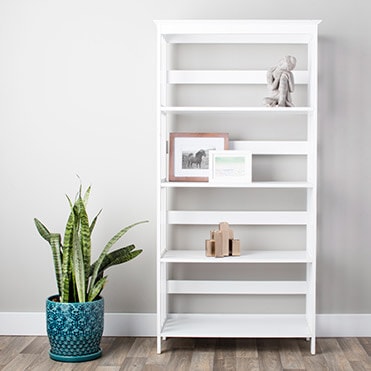 2) Start with Your Biggest Accent Pieces
Pick the largest pieces of shelf decor you want to use, such as vases, statues, or oversized picture frames and place them on your shelf. These accent pieces will become the focal point of your bookshelf design and allow you to create a story around them. Don't worry if your decor pieces aren't quite large enough to fill the shelf vertically. You can stack some books on their sides to create a pedestal effect, and raising your bookshelf decor to the desired level.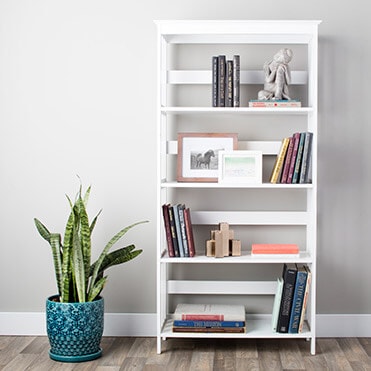 3) Bring in the Books
This might be a good time to evaluate your current book collection if you haven't already done so. Hardcover books are much easier to decorate with due to their size and structure. Plus, let's face it, they're prettier! To organize your books, you can choose a variety of options to fit your personal sytle. You can arrange your books by color to make a strong, visual statement or by subject, so they're easier to locate. Changing directions in your bookshelf design by stacking books both vertically and horizontally will help to add interest to your display and allow you to adjust the height of your decor pieces.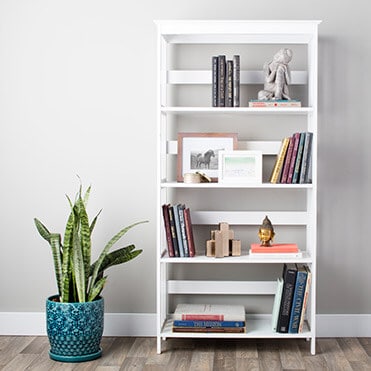 4) Add Your Shelf Decor
Now it's your time to get creative! Shelf design requires a little patience while you play around to get the look just right. Fill in the space around your books with your favorite pretty things such as candles, decorative boxes and ornaments, picture frames, wicker baskets, and more. Using a decorative tray on your bookcase is a beautiful way to present your shelf decor. A great way to keep your shelves looking updated and stylish throughout the year is to swap out a few of your accent pieces in favor of holiday-themed or seasonal decor.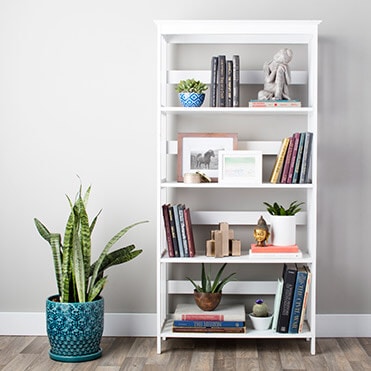 5) Invite Elements from Nature
Bringing in the outdoors is an easy way to make your home feel more lived in and comfortable. Potted plants make a great addition to your bookshelf design and also bring in extra color to your decorative palette. Assorted sizes of plants allow you to fill in the various open spaces in your display. You can fill a glass bowl with shells to incorporate a seaside element or add mixed rocks or stones to a tray for a more Zen-like approach. A simple flower in a vase can be a sweet addition to your shelf decor. The key is to find the natural elements that speak to you.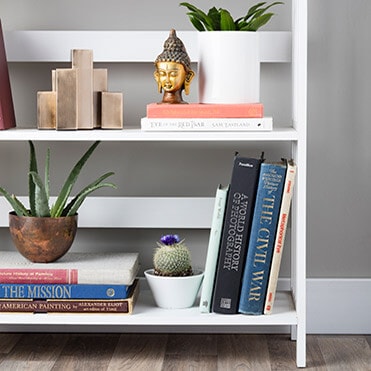 6) Strive for Balance
Balance is essential when decorating bookshelves, so make sure all your shelves are equally filled - don't cram one shelf full, while you leave another bare. Take a step back every so often to inspect your work. It will help you fill in gaps, and you can rearrange items as necessary. Your shelf design should be visually appealing, allowing the eyes to stedily flow from shelf to shelf. Well-decorated shelves are an extension of your personal style as well as things that you treasure. They are also an opportunity to tell your story through favorite photographs and keepsakes preserving your memories to be shared with all who pass through your home.