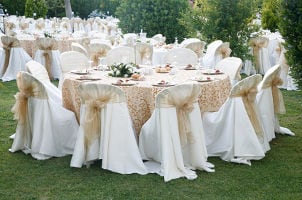 Things You Need:
Chair covers
Lace
Ribbon
Fabric
Pins
Tulle
Flowers
Streamers
When planning the decorations for a wedding, there are many things to consider. The big projects, like choosing a venue, selecting centerpieces and designing the cake, often overshadow smaller details. It is important to remember, however, that basic things like decorating the chairs can really make the reception style come together. Because it can be so simple to decorate chairs at weddings, it is important not to overlook this process. With some basic experience with crafts and a bit of creativity, you can add a touch of professionalism to your reception by dressing up your chairs in style.
Decorating Wedding Chairs:

Chair covers are the classic way to decorate chairs. Chair covers can be acquired from your reception venue or linen service company in a matching or complementary color to your other linens. You can also add to basic chair covers with nice craft embellishments, such as lace and ribbon. Many linen service companies will also assemble your chair covers and dress your chairs, saving you time and helping to reduce stress on your wedding day.

A swath of fabric can really dress up a chair in a pinch. If chair covers are out of your budget or you are having trouble finding ones that you like, you might consider dressing your own chairs with simple pieces of fabric. Purchase fabric in a color that will add to your reception decor and trim your chairs yourself or have a family member or friend help out. Simply cut the fabric to the right length, allowing for enough to wrap around the chair back with a one- or two-foot drop. The fabric can then be pinned or tied with ribbon, completely changing the look of your wedding tables without much effort or expense.

Embellishments such as tulle and ribbon can add a lot to a chair. If you want a very basic and simple way to dress up your reception seating, consider using tulle, ribbon, lace or other pretty accessories. Tying these lovely embellishments around your chairs in a nice bow can easily transform a plain chair into a beautiful decoration. These craft items are also inexpensive and easy to use.

Flowers make beautiful decorations for chairs and can be used in a variety of ways. If you want to add more fresh flowers to your wedding, you might consider adding floral crafts to your wedding chairs. Flowers can be ordered in bulk and assembled into nice, small bouquets. You can fasten these pretty bouquets onto the backs of your chairs with a strip of ribbon or lace that matches your other decor. You might also consider tying ribbon around the flowers and dangling the floral bunches from one of the chair posts. Flowers with long stems can also be woven through chair backs for a look that is rustic and beautiful. Silk flowers can be used instead if you are looking to save money on your wedding decor.

Streamers are a fun and attractive way to dress up chairs at an outdoor wedding. If your wedding reception is being held at the beach, a public park or in the backyard, then streamers can add a lot to your chairs and tables. Choose a color that matches well with your other decorations and tie or weave the streamers onto the chairs. Streamers are especially beautiful at outdoor weddings because they dance when the wind blows, lending a fun atmosphere to your wedding reception.

Buy Crafts and Sewing
Back to Guides Directory