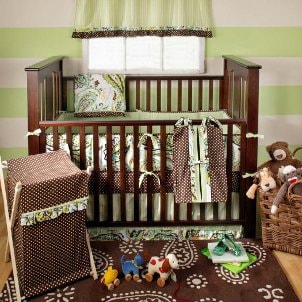 Preparing the nursery for your new arrival includes looking for a crib, bedding, toys and many other items. There is so much to get ready, but one of the most essential things to get done is making sure you find the right kind of baby furniture for your baby. Cribs are the automatic focal point of any nursery. However, a crib all by itself isn't complete until it's decked out and ready for your new baby. While you may think that cribs have to stay the way they are, think again. It's easy to match any crib to your nursery. Keep reading for helpful tips and hints on how to decorate baby cribs.
Baby Crib Decorating Tips:

Hang a mobile. A mobile gives your baby something interesting to look at while adding a custom design element to the crib at the same time. Some mobiles can be clipped to the side of the crib and others are designed to hang from the ceiling over the crib. Many baby bedding sets come with matching nursery decor including a crib mobile, lamp shade, curtains or valance, wall decor, diaper stacker and toy bag.

Invest in matching bedding. Another way to make your baby furniture stand out is by adding attractive themed bedding. A matching set of baby bedding goes a long way in enhancing the overall atmosphere. There are several elements of baby bedding such as sheets, crib skirts, a baby blanket and baby bumpers.

Use attractive toys. If you decided to use themed baby bedding for the crib, then try and find one or two toys that match the theme. Stuffed animals are always popular items for the nursery because they add to the playful nursery atmosphere. Remove the toys from the crib for naptime and bedtime.
Tip from Overstock.com:

Avoid filling your baby's crib to excess. A crib shouldn't be crowded. Instead, make sure there is plenty of room for your baby to move around during the night. You can always put the decorative items in your baby's crib during the day and then take them out during nap time or at bedtime.

Buy Cribs
Back to Guides Directory