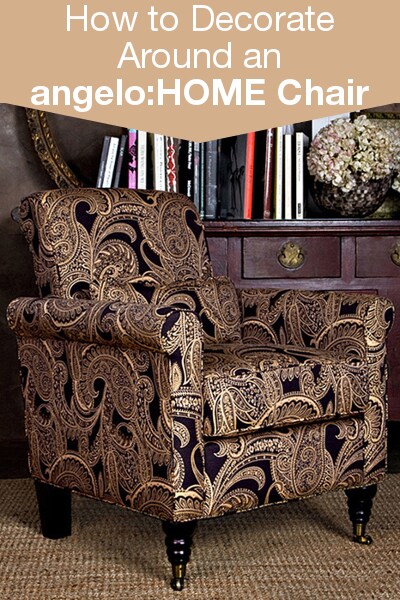 SHOP ANGELO:HOME FURNITURE NOW >>
As the host of HGTV's "24 Hour Design" and "Rate My Space," designer Angelo Surmelis said he strives to use color in a way that will affect the mood of a room. From a dusty blue velvet chair that evokes the sky in London to a bright floral chair inspired by summer, Surmelis has created pieces for his angelo:HOME furniture line that make colorful companions to your other furniture and home decor.
angelo:HOME Chair Inspiration:

Pick a bright pattern to liven up your living room. Many people choose to purchase solid neutral-colored couches for their living rooms or dens because they are timeless. However, having a blank slate can sometimes lead to boring design if you don't bring in pattern and color. To update a bland living room, try replacing your loveseat with two armchairs upholstered in a turquoise damask print or a lime green paisley pattern. Use a sleek glass coffee table or a media stand made from reclaimed wood to accent your colorful new chairs without taking away the spotlight.

Bring leather chairs into a home office. To add sophistication to your study, decorate with leather chairs from angelo:HOME. These basic pieces can stand alone in an office, or you can mix and match them with other items from the angelo:HOME line. For instance, try replacing your desk chair with a rich coffee-colored leather chair and positioning two muted-blue velvet armchairs in front of your desk for clients or visitors.

Create a lounge with nesting ottomans. Instead of using regular chairs, try creating an interesting space in your living room or loft area with circular or square nesting ottomans from angelo:HOME. These upholstered sets come with three ottomans in different heights. You can group them together to use in place of a coffee table, or you can use them as extra seating when you have guests over.

Arrange a sitting area in your bedroom with armless chairs. Add a pop of color to your bedroom by filling an unused corner with a pretty floral-print armless chair and turning it into a sitting area. Armless chairs take up less space that oversized armchairs and can make an impact even if you have a small room. Add a slim pedestal table or a chic floor lamp and drape a blanket over the back of the chair for a corner that can be a cozy reading nook or place to unwind before bed.

Shop angelo:HOME Chairs
Shop angelo:HOME Sofas
Shop All angelo:HOME Furniture
See All Guides
Read More Furniture Guides
Learn More about Living Room Furniture
Published September 19, 2011
Updated December 31, 2014