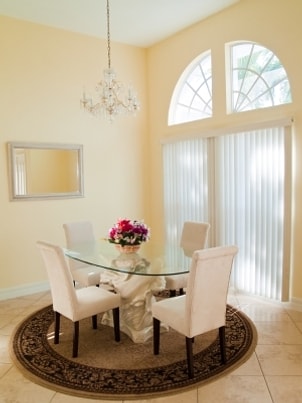 Things You Need:
Drill
Level
Tape measure
Pencil
Arched windows allow light to enter the home through beautifully curved glass. Decorative arched windows create a spacious feel and add warmth from the sun's glow while providing a wide view of the outdoors. Dressing an arched window for privacy is similar to adding window treatments to standard square or rectangular windows, with a few adjustments. Drapes, valances and curtains can be fitted for arched windows and coordinated with standard window treatments in the home.
Decorating an Arch Window:

Choose the window covering. For soft, diffused light, choose sheer curtains. Select thick, lined blackout curtains for an insulated covering.

Full or partial coverage. Choose whether you want to cover the entire window or only part of the window. For bedrooms and bathrooms, you may want to select a full-coverage window dressing for your arched windows. If you have an entryway with an arched window or a living room with cathedral ceilings, you may want to choose to leave the top of the arch unveiled, while covering the lower portion of the window.

How to measure for full coverage. Use a tape measure to make a pencil mark at least 2 inches down from the ceiling, on the wall above the window. Allow more space if the curtain rod has large, decorative end pieces. Use a level to make sure your marks are straight. Make a center mark if you will be installing a central brace.

How to measure for partial coverage. For partially covered arch windows, measure the width of the window just below the curve of the arch. If you plan to use a spring-pressure rod, use a tape measure to find out the width of the interior casing of the window. If you will be using rod hooks, use a tape measure and level to mark the placement of the rod hooks.

How to install a curtain rod. For adjustable spring-pressure rods, simply position the rod on your pencil marks inside the window casing and adjust the ends until the rod is secure. To install rod hooks, use a drill to secure the curtain rod hooks at the places you marked. Add an additional hook to the center of the measurement if the width of the window exceeds 3 feet. Position the curtain rod securely across the hooks.
Arch Window Decorating Tip:

Curved curtain and drapery rods are available for window treatments installed directly above the arched window. Since these types of treatments are prone to sliding along the curve of the rod, fabric dressings are secured to the rod. Open this style of window treatment by securing the length of the fabric to itself with a tie-back or wall-mounted hook. Add valances to curved rods for decoration without covering the view from the window.

Buy Window Treatments
Back to Guides Directory