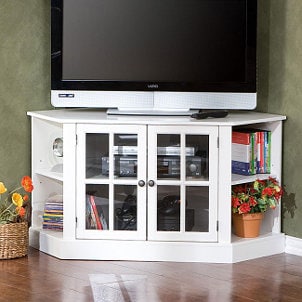 Setting your new corner TV stand up in your living room is the just the beginning. Today's decorating trends are all about multitasking. Some people see it as a waste of potential if you don't use your corner TV stand for something besides holding your TV. Decorating your new entertainment center isn't anything to get stressed about because decorating a corner TV stand is fast and easy. Keep reading for ideas on how to decorate a corner TV stand.
Decorating a Corner TV Stand:

Make sure your TV and corner TV stand match in size. The most important step is making sure that your TV is compatible with your corner TV stand. A television set on a corner TV stand automatically becomes a focal point in your living room. If your TV is too big for the stand, then the risk of it becoming unbalanced and falling over increases, most likely irreparably damaging your TV. On the other hand, a too-small TV will look comical and dwarfed by a large TV stand.

Display media on your corner TV stand. Your corner TV stand is your center for entertainment. Store or display media items like your favorite DVDs or CDs. If you have gaming consoles, DVD players and other entertainment electronics to keep near your television, look for a corner TV stand with adjustable shelves; this will keep your entertainment area organized.

Add some accent pieces to your corner TV stand. Adding decorative elements to your living room furniture is perfectly acceptable as long as they already match the pre-existing living room decor somehow. You want your corner TV stand to be unique, but not an eyesore. Adding a vase in an accent color gives your living room furniture a pop of color. Another way to decorate your corner TV stand is to add a themed accent piece to one of the shelves for display.

Use the space around the corner stand. If your TV takes up the whole stand and there's no extra room for extra decorations, then think about decorating the area around your TV stand. Hanging some staggered paintings on the walls or a putting few plants around the base of the TV stand will work perfectly. Just because there isn't any room doesn't mean your corner TV stand has to sit there plainly. You can always add some sort of accent piece or knick-knack to further personalize your living room furniture.

Buy Corner TV Stands
Back to Guides Directory