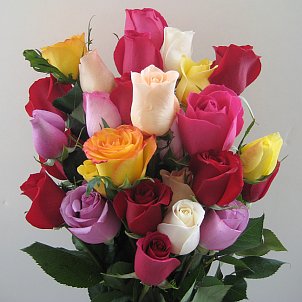 Roses have long been a popular flower to give to someone you care about or appreciate. Although some may not consider the rose's color for any reason other than personal preference, many prescribe to lists fashioned by florists, growers or to simple folklore about the meaning of each shade. If you want to know how to decipher the meaning of roses, consider the popular steps below. All you really need to is a color chart for reference or, if the flowers are already in front of you, recognition of the color which you're viewing; then simply refer to these how-to-know guidelines.
Rose Colors:

For red roses, you probably already know their meaning of true love. The red rose is a romantic symbol also known to convey passion and the respect of deep love, furthering the thought of lasting love.

White roses should be deciphered to mean purity and innocence, like young love with its innocent, pure spirit of desire. The white rose is also often considered the bridal rose, conveying loyalty and a message that "I'm worthwhile for you."

Pink roses indicate that the recipient is gentle and feminine; she is refined and often elegant. Lighter shades of pink mean grace and darker shades represent thankfulness and gratitude. Pink roses are often considered a good option for mothers, grandmothers and other relatives as their color represents important but platonic relationships.

For yellow roses, consider a meaning of friendship. They represent warmth, affection and an appreciation for a significant relationship although not usually of the romantic type.

Orange roses have been deciphered to mean desire, vibrancy and enthusiasm. Orange roses are a perfect way to indicate attraction with a hidden meaning of passion; however, they are not as blatantly indicative of romantic love as the red rose. Peach shades of orange can be used for showing thanks or appreciation to acquaintances when love isn't considered a part of the relationship, such as work colleagues.

Purple and lilac roses mean love at first sight; with a mystic quality in history, the color purple is linked to magical desire and longing.
Tips:

When buying rose bouquets, it's fine not to take the deciphering of rose colors too seriously. Many men and women may not be aware of these meanings, so you can simply present someone with a color they admire.

On the other hand, matching the rose color to your feelings and intentions makes the recipient more confident of the meaning behind the flowers and adds a sense of magic and tradition to the gift.

Buy Fresh Flowers
Back to Guides Directory