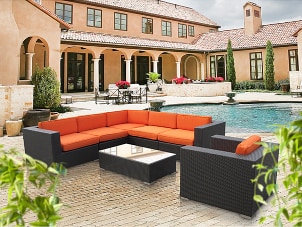 Design isn't just about the indoors anymore. Creating outdoor living spaces is a huge trend right now. Luckily, you don't need an expensive architect to create your own outdoor oasis. Here are a few tips to help you transform your own yard into the oasis of your dreams.
Backyard Design:

Work with what you have. Start by measuring your backyard and mapping out its natural landscape features. This will give you an idea of how much room you have to work with and where you can creatively incorporate existing trees, hills, and rocks into your overall design.

Choose a theme. Whether you go with a Japanese water-garden look or a sunny Mediterranean feel, basing your design on a single theme will give it a sense of continuity. Choose everything, from your patio furniture and garden decor to the plants, to fit your theme. Bamboo works well for Asian themes, and cactuses and succulents fit with a more southwestern look.

Create open spaces. The best backyard designs have a balance of highly landscaped and open spaces, and that doesn't mean just lawn space. Be sure to incorporate open living spaces, like patios and decks, into your own design. If you have more than one, you'll want to create a flow between them with stepping stones or walkways.

Select the right plantings. Along with choosing plantings that play to your theme, you'll also want to make sure you're planting the right trees, bushes, and flowers together and in the proper place in your yard. Research the plants you like to determine if they require sunshine or shade, their blooming season, and whether they're perennials or annuals. This will give you an idea of where and how to plant each one.

Set the mood. You want to enjoy your new outdoor space, so make sure it's somewhere you'll find comfortable and appealing. Outdoor lighting is a great way to enhance your landscape at night, while tables and lounge chairs make it comfortable and inviting. Look for umbrellas and sun sails to create shady spots and portable fire pits and bowls to create evening ambiance.

Mix your elements. Just like nature, a good outdoor oasis should have a mixture of elements. Balance large trees and bushes with smooth stones, and patio areas with water elements, like a pond or fountain. Consider hanging a few wind chimes to tinkle in the breeze and installing a reflecting pool to reflect sunlight across your patio.

Buy Garden and Patio Products
Back to Guides Directory