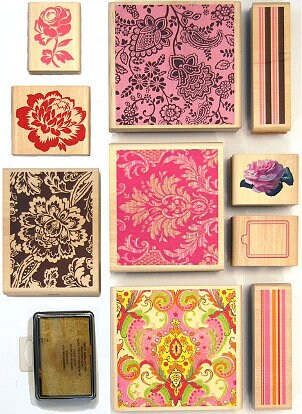 Things You Need:
Rubber stamp
Velvet
Scissors
Spray bottle
Iron
Ironing board
Polymer clay
Craft knife
Baking sheet
Oven
Acrylic paint
Paint brush
Glitter
Paper
Ink
Embossing powder
Heat gun
Rubber stamps can be used for more than simply stamping ink on paper. You can make beautiful craft items to give as gifts and display in your home with stamping effects. Using rubber stamps such as wood stamps, you can easily create special effects on fabric, clay and paper. The embossing effects you create with stamping are perfect for scrapbooking, making your own cards and adding creativity to clothing and accessories.
Using Rubber Stamps:

Emboss velvet. Rubber stamps can be used to emboss pieces of velvet, which can then be incorporated into a variety of craft and clothing projects. First, cut a piece of velvet and position it on top of a large rubber stamp on an ironing board. The rubber part of the stamp should be right-side up, while the velvet should be right-side down on the stamp. Mist the velvet with water using a spray bottle. Then gently set a hot iron on the back side of the velvet, lightly pressing the velvet onto the stamp with the iron. If the iron plate has steam holes in it, carefully position the iron so the pattern of the holes does not transfer to the stamped velvet. Allow the velvet to steam for 20 seconds and then carefully lift an edge to check for embossing. Reapply the iron if embossing is not complete. You can use this method to create a pattern across a large piece of velvet or on small pieces of velvet that will decorate cards or add style to a pillow case, bag or picture frame.

Emboss clay. You can use rubber stamps to add embossed designs and images to all types of clay projects. Start with a wedge of polymer clay and roll it out to about 1/4 inch thick with a rolling pin. Press the rubber stamp into the clay firmly, depending on how deep an impression you want to make. Then remove the stamp. You can then use a craft knife and cut the clay into the desired shapes to make ornaments, jewelry pieces and art. You can bake the clay on a baking sheet in the oven to harden and set the embossed image; refer to the manufacturer's directions for temperature and timing guidelines. After the clay pieces have cooled or dried, consider painting them with acrylic paint. Painting the clay piece with brown paint and wiping the paint off before it can dry will give the clay piece an antiqued look. You can also add glitter and other embellishments to the clay piece.

Emboss paper. Embossing gives paper items, such as cards, gift tags and scrapbooking embellishments, a raised look, which lets you add images and words to these craft projects with professional flair. Start with a blank piece of paper, such as a card, envelope or piece of wrapping paper. Stamp your image onto the paper and sprinkle embossing powder onto the wet ink. Shake excess powder back into the jar and place the object on a heat-safe surface. Using a heat gun, melt the powder on the paper until the color and texture of the powder changes. Experiment with a variety of stamp images and powder colors.
Tip:

Consider combining embossed items for a beautiful card. You can emboss a piece of velvet and a piece of paper with the same image or complementary sayings and then affix the velvet to the card as a border or monogram.

Buy Wood Stamps
Back to Guides Directory