How to Create a Stimulating Baby Nursery
by April Sanders
Published April 29, 2010 | Updated August 14, 2015
Many parents eagerly anticipate setting up and decorating their new baby's nursery. While safety is always the number one concern when creating a nursery, it is also important to incorporate items and designs that will stimulate your baby's development. There are a lot of loud, flashy, busy baby toys on the market, and it may seem like the flashier the toy, the better to stimulate your baby gets; but in reality, the best forms of stimulating nursery decor are the simplest.
Decorating a Nursery: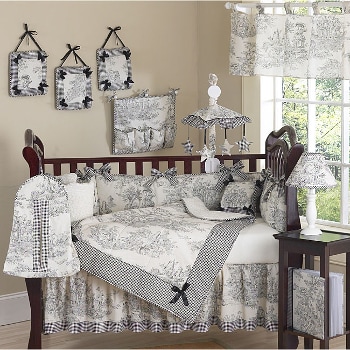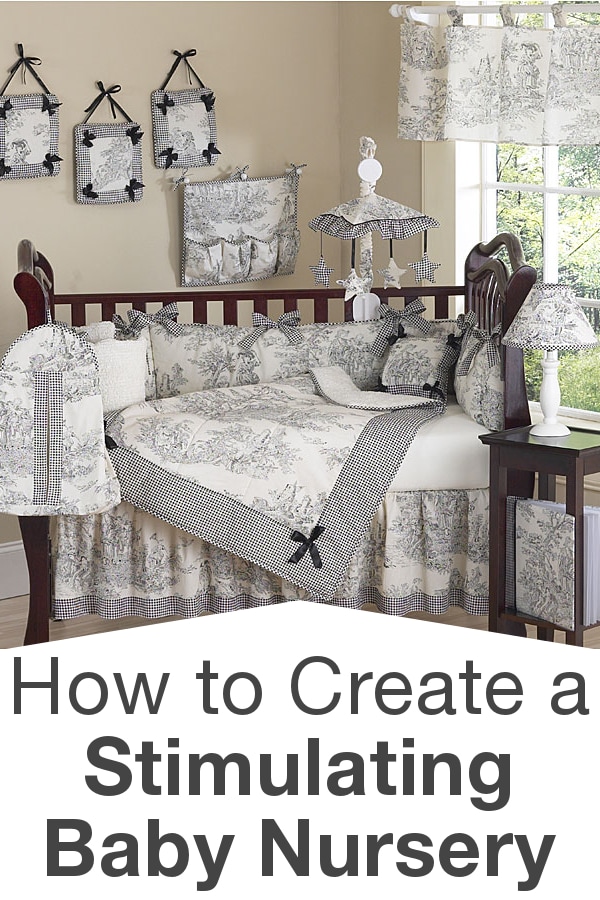 Shop Nursery Decor ▸
Stimulate Language Development

Babies love to listen to you read. Place a comfortable chair in the nursery and use it to sit, snuggle, and visit with your baby. A basket full of colorful baby books next to the chair is the ideal accessory for stimulating language development. Frequent one-on-one interaction with your baby stimulates the language center of the brain. Early exposure to a wide variety of words will help develop your baby's mind, so don't worry that he's too young to understand the story you're reading. Simply looking at your baby while reading and talking to him is one of the most important things you can do to stimulate his brain.

Stimulate the Eyes

It's fun to choose cute nursery decor and baby furniture, and some parents even choose a unifying theme to tie the whole room together. To stimulate your baby, decorate with bright, contrasting colors and patterns. While pale pink and baby blue are traditional colors for a nursery, babies actually respond more strongly to vibrant colors. This does not mean you need to make the room look like a circus. The nursery should be a soothing place for your baby to sleep. Instead, decorate with a few well-chosen, brightly colored items.

Stimulating Decorative Items:

Look for a high-contrast, graphic print. Babies' eyes can focus on black and white when they are very young, so it may be fun to decorate in black-and-white stripes or chevrons.

Babies spend a lot of time on their backs, so give them something exciting to look at. A mobile over the bed can entertain your baby when he wakes up from a nap, so he doesn't get bored and immediately cry for you. A mobile over the changing table can distract him during his many diaper changes.

A few simple pieces of art on the wall give your baby more places to work on his developing vision. Wall decals are great for hanging over cribs because nothing can fall down onto your baby. Canvas art, framed prints, and decorative wall hangings can be hung in other places in the nursery.

Stimulate Motor Development

Babies don't need buckets of toys. The benefits of a few quality baby toys are often far greater for developing motor skills and coordination than mass quantities of toys. Stock your baby's nursery with some classic toys for learning and growing, such as blocks for finger and hand manipulation and lightweight balls for hand-eye coordination. A soft area rug is excellent for tummy time.

Stimulate the Ears

After nine months in a noisy womb, babies are used to having sound, and they're quickly comforted by the right noises.

Stimulating Sound Items:

A sound machine may play soothing nature sounds or it may have a "white noise" that helps your baby feel like he's still in the comfortable womb that he is familiar with. Some other baby electronics -- like baby monitors, night lights, and clocks -- have sound machines built in.

Babies love music. Play soft music from your playlist to lull your baby to sleep and upbeat music during play time. Expose your baby to a variety of musical styles.